This healthy banana bread with apple and raw cacao nibs is sheer comfort food.  Eaten warm, straight from the oven its exactly what you need on a dark winter's afternoon – yes, its hard to believe that it gets dark here in London at 4pm mid winter. Still, it's a great excuse to curl up with a cup of tea and a piece of cake!
I don't know about you, but I often find banana bread can be quite dense, so here I've added apple for a lighter, fruitier edge, and raw cacao nibs for a little bit of crunch. The loaf isn't too sweet, just completely delicious!
And by the way, raw coconut sugar is a good alternative to refined sugar, but its kind of expensive, so I try to buy it when it's on offer. Just go ahead and substitute with any sweetener of your choice if you prefer.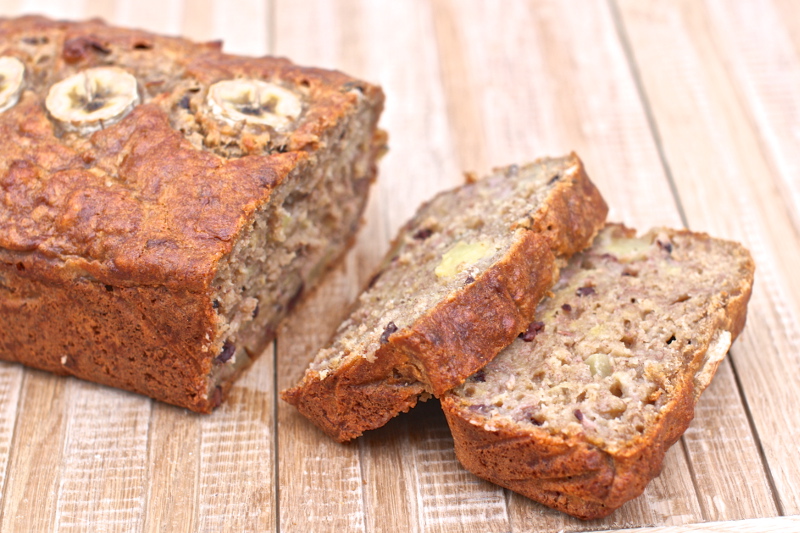 Healthy Banana Bread with Apple and Raw Cacao Nibs
Ingredients
2 medium-sized ripe bananas
60ml  | ¼ cup oat milk (or milk of your choice)
60ml |1/3 cup vegetable oil
1 teaspoon vanilla extract
1 egg or vegan egg**
40g | 1/3 cup coconut sugar (or normal sugar)
110g | 1cup wholemeal spelt flour
60g | ½ cup light spelt flour
1 teaspoon baking powder
¼ teaspoon baking soda
30g | ¼ cup raw cacao nibs
1 apple (peeled and chopped into small pieces)
** For Vegan alternative, substitute the egg with 1 tablespoon chia seeds mixed with 3 tablespoons water. Leave to stand 10 minutes until it thickens.
Method
Preheat the oven to 170C | Gas mark 4 and line a loaf tin with greaseproof paper.
Mash the bananas in a large bowl with a fork, and mix in the milk, oil, vanilla extract and egg, followed by the coconut sugar.
Place the flour in a separate bowl, sift in the baking powder and bicarbonate of soda, add the cacao nibs, then mix well.
Pour the dry ingredients into the wet mixture and stir until combined.
Lastly fold in the peeled, chopped apple pieces.
Scrape the batter into the loaf tin and bake in the oven for 40-50 minutes, or until a knife inserted into the cake comes out clean.
Cool on a baking tray and enjoy!