It's weird how the less wheat you eat, the more you naturally want to avoid it.  For me it's not an allergy thing, its just that I feel a whole lot 'lighter' without.  Its kind of like wandering around with a heavy book in your rucksack, then one day you take the book out and suddenly you can enjoy a lightness you didn't even know was possible – if that makes sense?
I love that this cake is flourless AND fat free.  It seems like a miracle that it would work, but its actually amazing.  Ok, its never going to be the lightest sponge, in fact its quite dense. But it's still my favourite cake – moist, fresh, protein-filled, and with a pretty high comfort food rating.
I'll sometimes serve with vanilla yoghurt, but it doesn't really need a topping as its super delicious on its own.
Oh, and by the way, the coconut nectar can be expensive, best to stock up when its on offer! For those in the UK, keep an eye on Holland & Barrett offers.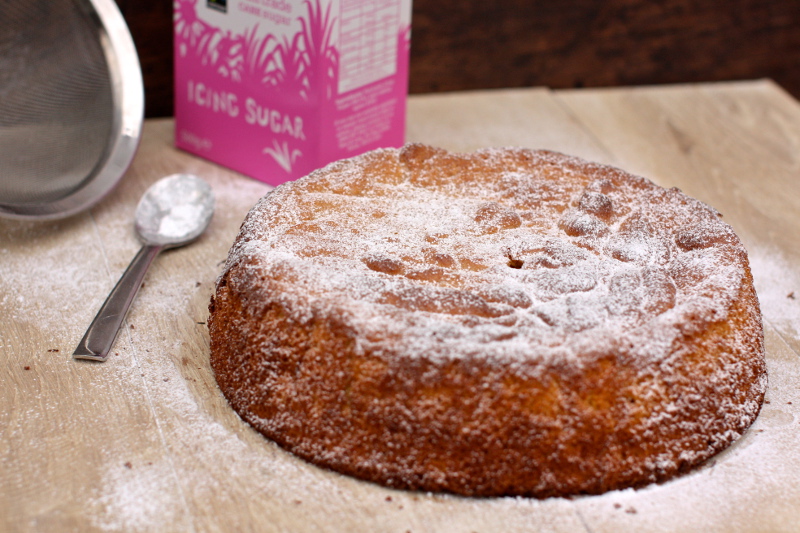 Flourless Orange & Almond Cake
Ingredients
2 large oranges
85g |½ packed cup | 3 oz coconut sugar (crystallised nectar)
5 eggs
225g | 2 ½ cups ground almond
1 teaspoon vanilla essence
½ squeezed lemon (juice only)
Icing sugar to decorate
Method
Preheat the oven to 170C | Gas mark 3, and line the bottom and sides of a 23cm (9inch) Spring Form cake tin
Grate the rind, and squeeze the juice of the oranges.
Place the rind and juice in a saucepan, add three tablespoons of the coconut nectar and simmer for 15 minutes or so or until the liquid has reduced by about a quarter, then take off the heat.
Separate the eggs, then whisk the egg whites until they form soft peaks..  Slowly add a tablespoon of the coconut nectar and whisk for a further minute. Set aside.
Next whisk the egg yolks with the remaining coconut nectar until the mixture becomes pale and thickens.
Whisk in the reduced orange juice, add the lemon juice, then carefully fold in the ground almonds.
Stir in 2 or 3 tablespoons of the whisked egg white to loosen the mixture, and carefully fold in the remaining egg whites.
Pour into the prepared cake tin, level the top, and bake in the oven for 50-55 minutes or until a knife inserted comes out clean.
The top of the cake may brown quickly so check the cake after 15 minutes and loosely cover with foil if necessary.
Leave the cake to cool in the tin, before transferring to a plate and dusting with icing.