I am officially in love with Matcha green tea so making Matcha brownies seemed to make perfect sense. There are so many good things I could tell you about how nourishing Matcha is for you but it's also about taste and how it makes you feel – which is amazing on both counts.
Apparently the Samurai warriors of Japan drank Matcha green tea before going into battle because of its energising properties. On the other hand the Zen Buddhist monks have used it for over a thousand years as a means to relax and meditate while remaining alert. It really is a beautiful tea, which evokes a sense of happy ritual wherever you are.
With all this love, I just couldn't help incorporating it into a healthy gluten free brownie recipe. With the dark chocolate and Matcha, this is antioxidant heaven. The brownie tastes divine, and the Matcha makes it feel just that little bit special. You kind of can't beat it!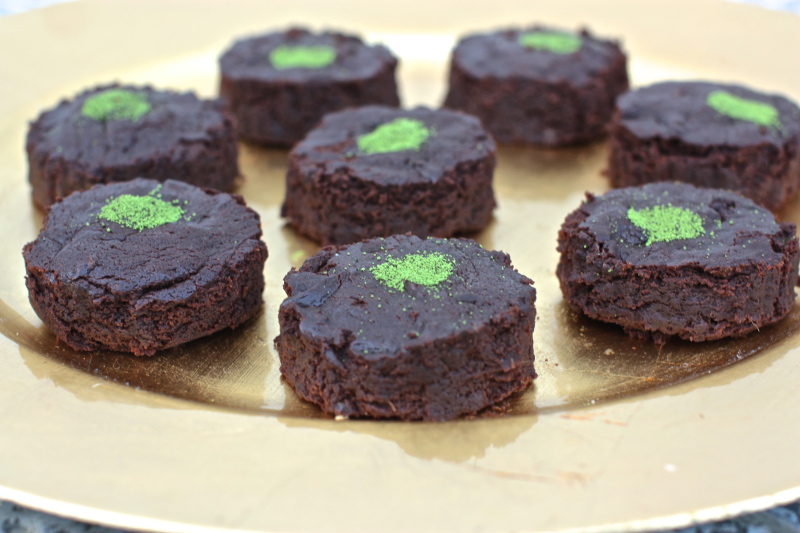 Matcha green tea brownies
Ingredients
1 level teaspoon matcha green tea
3 tablespoons gluten free flour – (I used 2 tbs sorghum flour +1 tbs potato starch)
1 teaspoon baking powder
1 tablespoon coconut nectar
3 tablespoons cocoa powder
200g | 7oz chocolate (min 70% cocoa)
80ml| 1/3 cup vegetable oil
150g | 1 cup dates
1 cup water
3 large eggs
Method
Preheat oven to 160C | Gas mark 3 and lightly grease an 8×8 inch (20x20cm) brownie tin with vegetable oil.
Mix together all the dry ingredients in a bowl and set aside.
Melt the chocolate in a heat-safe bowl placed over simmering water.
While the chocolate is melting place the dates and water in a pan and simmer for 5 minutes, then blend in a food processor until smooth.
Remove the chocolate from the heat once melted, and mix in the pureed dates.
Stir in the eggs, along with the dry ingredients.
Scrape the batter into the prepared tin and bake for 12-15 minutes until the centre feels just about set. Be careful not to overcook.
Leave to cool in the tin fully before cutting.
Sift a little matcha powder over the brownies or use a stencil to create a matcha shape (optional)