For the first time this year I made some home made foodie presents including this Rosemary and Thyme Salt. Super easy to make and really useful in the kitchen, this salt is all about combining the purest of salt with gorgeous, aromatic herbs.
It so simple, but this salt adds a beautifully fragrant touch to the simplest of meals.  I now use it all the time – sprinkled on potatoes, scrambled eggs, roasted squash or even avocado – it brings whatever you're eating alive. They say that to feel full after a meal you need to satisfy your taste buds and this salt definitely does the trick.  The pink Himalayan salt contains minerals and elements not present in many refined salts (and of course its also a gorgeous pink colour) and the juniper berry adds a slight citrus note.   But of course you could mix and match any herbs that you fancy.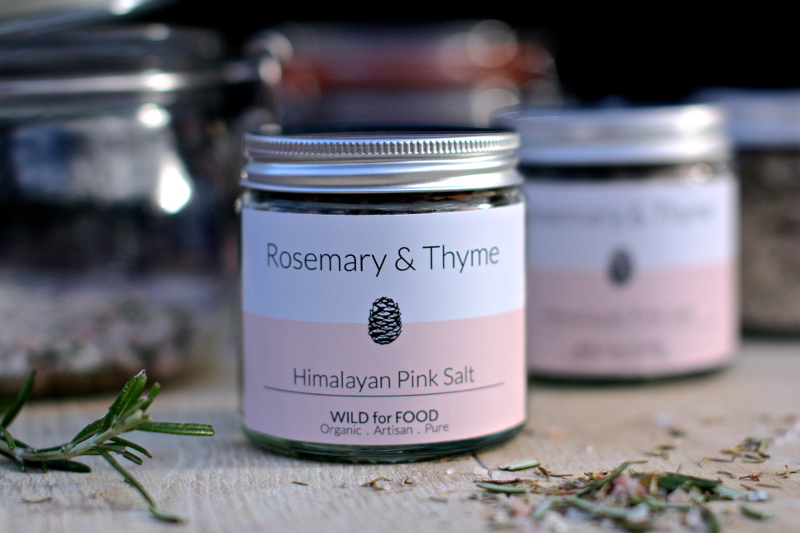 Rosemary & Thyme Pink Himalayan Salt with crushed Juniper Berries
Ingredients
2 cups coarse pink Himalayan salt
2 cups fresh thyme
2 cups fresh rosemary
4 teaspoons dried juniper berries
Method
Makes 5 or 6 jars (100ml)
Grind the salt in a pestle and mortar so that it is a nice mix of fine and slightly larger crumbs.
Chop the thyme and rosemary then mix with the salt. Using the pestle, mash the herbs with the salt to release and blend their fragrant oils into the salt.
Crush the dried juniper berries then chop them finely and add to the salt.
Spread the salt mixture on a shallow tray and leave to dry out in a warm but airy place for 12-24 hours, stirring a couple of times.
Decant into clean, dry jars.