The question 'what's for dessert?' comes up pretty often in our house, and chopped fruit is never deemed an acceptable response. So, partly because I love a good warming dessert, and partly to satisfy my demanding household, I often make baked fruit with some kind of topping. It passes the dessert police test as the fruit slips under the radar by its association with in this case, flapjack.
The baked plums are deliciously soft, and the pistachio flapjack topping adds an extra oaty sweetness that makes the dessert healthily satisfying.  Its just one of those simple desserts that seems to please everyone.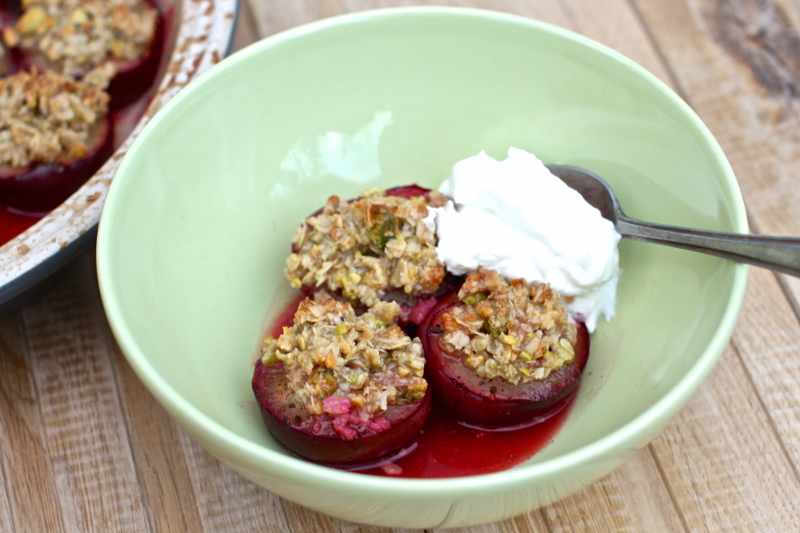 Baked Plums with Pistachio Flapjack Topping
Ingredients
For the baked plums:
10 plums halved and stoned
2 tablespoons honey
2 oranges (juice only)
Grated vanilla bean (optional)
For the topping:
40g | 4 tablespoons butter (or coconut oil)
2 tablespoons honey
30g | ¼ cup pistachios (roughly chopped)
100g | 1 cup oats
Method
Serves 4
Pre heat oven to 180C | Gas mark 4
Place the halved, stoned plums into a baking dish flesh side up.
Drizzle a little honey onto each of the plums and squeeze over the juice of two oranges.
Grind a little vanilla bean over the fruit (optional – I use a vanilla bean grinder but this can easily be left out).
Cover with tin foil and bake in the oven for 20-25 minutes until the plums begin to soften.
Meanwhile start making the topping by melting the butter in a pan over a low heat. Once the butter is melted stir in the honey.
Add the chopped pistachios and oats, mixing well so that everything is nicely coated.
Once the plums are ready, spoon a generous serving of the topping on to each of the plums and bake in the oven uncovered for a further 10-12 minutes or until the topping is nicely browned.
Serve warm with cream or greek yoghurt.