I love this upside down pear cake and have been making it a lot recently. I guess its because I'm still a bit of a newbie to the no eggs no dairy thing but I'm still surprised that you can make a vegan cake that tastes so good. I mean why didn't anyone tell me this before!
The cake is moist, sweet with lovely tones of cinnamon – real comfort food that is also nourishing to the soul. The spelt flour makes it lighter on the digestion and the pear is gorgeously soft and mellow. I love the moment you invert the cake on a plate after cooking and see what pattern the pear has made – always very satisfying. This is officially my new favourite recipe.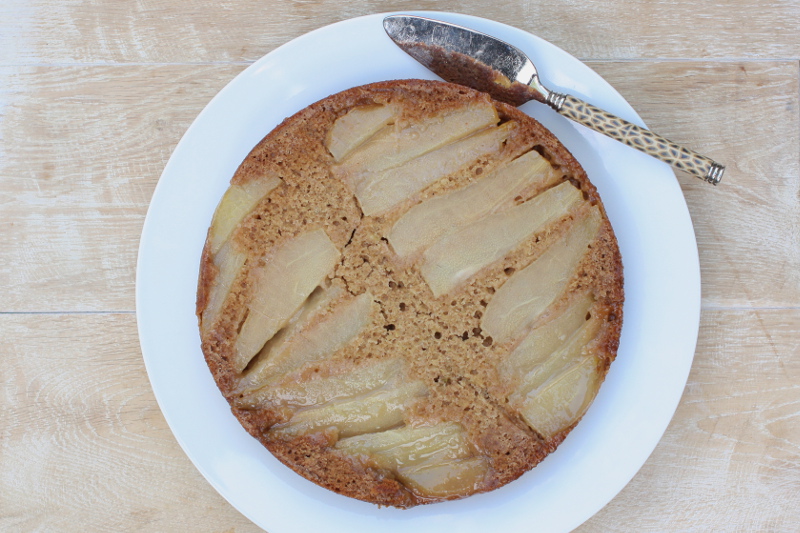 Upside down pear cake (vegan)
Ingredients
150g | 1½ cups spelt flour
1 teaspoon baking powder
½ teaspoon ground cinnamon
½ teaspoon ground nutmeg
¼ teaspoon ground ginger
4 medium pears, peeled and cored
80g | ¼ cup + 2 tablespoons maple syrup
½ lemon, juice only
2 tablespoons water
4 tablespoons vegetable oil
Method
Preheat the oven to 180 C | Gas mark 4
In a large bowl mix the spelt flour with the baking powder, cinnamon, nutmeg and ginger and set aside
Line the bottom of a round 22cm | 8.5 inch cake tin with parchment paper
Cut one of the pears into thin slices and arrange in the bottom of the prepared cake tin
Drizzle 2 tablespoons of maple syrup over the pears
Roughly chop the remaining three pears and blitz in a food processor with the lemon juice and two tablespoons of water until you have a smooth apple sauce
Create a well in the dry ingredients, pour in the apple sauce, vegetable oil, maple syrup and stir until combined.
Carefully spoon the batter over the pears and bake for 35-40 minutes, or until an inserted knife comes out clean
Leave to cool a little then run a knife round the edge of the cake tin. Invert the cake onto a plate and carefully peel off the parchment paper.
Slice and serve.