My first ever experience of proper homemade scones was as a student when my housemate rustled up a batch one afternoon in less than half an hour. I was in awe! They were deliciously warm, perfectly soft and apparently ridiculously easy to make. Our dank, unloved house momentarily turned into a cosy home as the smell wafted through – it's just the effect that scones have!
And of course scones are just so brilliantly British.  It's afternoon tea baking at its best – simple, understated but divinely decadent. These scones celebrate all that British tea-ness but with a healthy edge.  They are pretty much apple and fig enrobed in wholemeal, and the result is a satisfyingly country-style scone that scores high on the comfort factor.
The fig creates a natural sweetness so these scones are simple and delicious on their own, but can also be gorgeously indulgent – depends on how much jam and cream you decide to dollop on!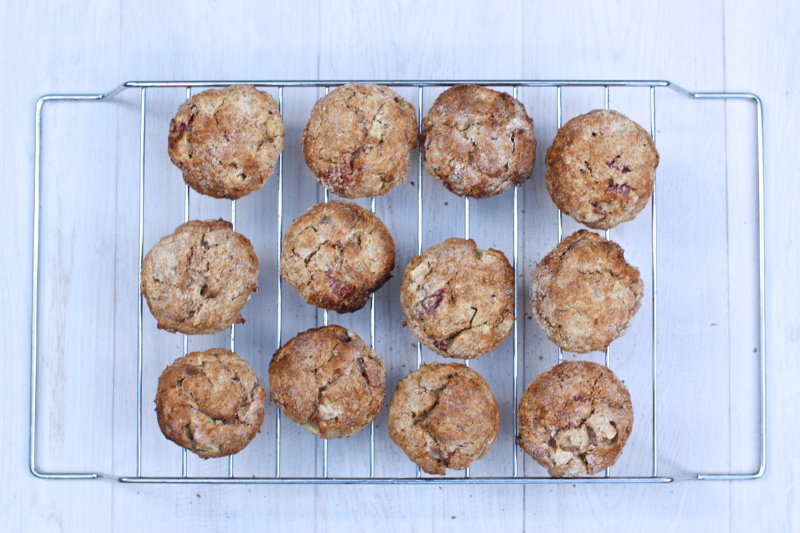 Apple and Fig Wholemeal Scones
Ingredients
225g | 2 cups wholemeal self-raising flour
50g | 4 tablespoons coconut oil (or butter)
2 Apples
1 Fig
120ml | ½ cup oat milk (or milk of your choice)
2 tablespoons maple syrup
Method
Makes 12-14 small-ish scones
Preheat oven to 220C | Gas 8.
Place the flour and coconut oil/butter into a large bowl and combine the two by rubbing with your fingers until the mix becomes like fine crumbs.
Peel and core the apples, then chop both the apples and fig into small cubes.
Add the chopped fruit to the flour mix and gently stir.
In a separate jug, mix the milk and maple syrup.
Pour the liquid into the flour mix, stirring to combine, then fold over a few times until a dough forms (it will still be quite a rough mix at this point but that's fine).
Scoop the mix out with your hands and place on a floured surface, patting the dough together and flattening to form a round of about 3cm deep.
Cut scone circles out using a cutter around 6cm diameter, patting offcuts gently back together and repeating the cutting process until all the dough is used.
Place on a lightly floured baking tray and bake for 10-12 minutes or until the scones are nicely golden.