I'd love to have an apple tree in the garden.  How cool to be able to step outside and have an abundance of fruit every autumn.  I do have a cherry tree in a large pot – total fruit yield this year: one cherry.  I'm not kidding!  And then I have two slightly more successful raspberry plants which at their peak this weekend produced one cup of delicious home grown fruit. Perhaps it is worth the effort after all.
With my successful cup of raspberries in hand, I thought I'd make an apple, raspberry and pistachio crumble.  This is a very simple gluten free recipe and with the pistachios being naturally sweet themselves, the sugar can be kept to a minimum.
I like to grind the pistachios so that they retain some slightly chunky bits as this helps create a satisfying crunch, and it also helps the subtle pistachio flavour come through nicely against the apple and raspberry.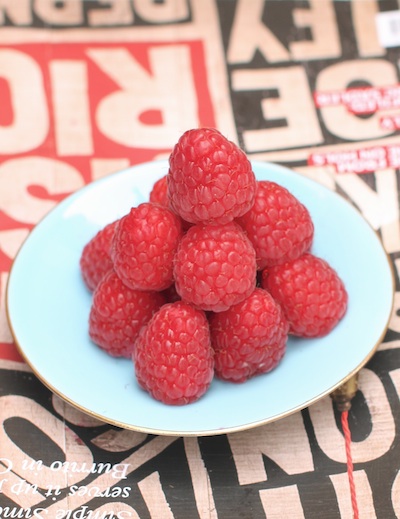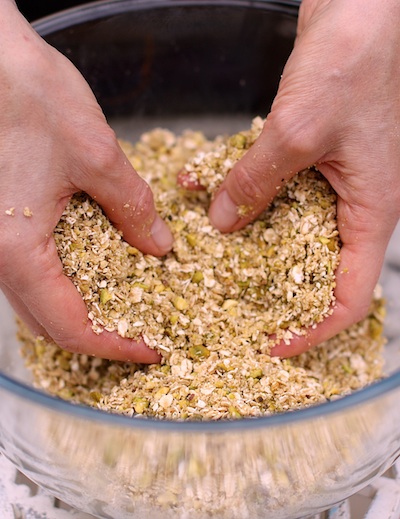 Apple, Raspberry & Pistachio Crumble
Ingredients
200g | 2 ½ cups oats
100g | 1 cup pistachios
8 apples
90g | 1 cup raspberries
40g | 1/3 cup sugar
60g | 5 tbs butter
½ teaspoon ground vanilla
Method
Serves 6 people
Pre heat the oven to 180 C | Gas mark 4.
Peel then slice the apples and place in a 9 inch baking dish.  Cover with tin foil and bake in the oven for 45 minutes.
Meanwhile grind the pistachios in a food processor, pulsing until you get a nice mix of fine crumb with crunchy bits.
Mix the ground pistachios with the oats, sugar and ground vanilla.
Cut the butter into small chunks and add to the pistachio and oats mixture, blending with your fingertips until you have an even crumb.
Once the apple has softened nicely in the oven, take off the tin foil and sprinkle on the raspberries.
Cover the fruit with the crumble mixture and bake for approximately 30-40 minutes until the topping turns a golden brown and the fruit just starts to bubble up at the edges.