Did you know that aubergines are either male or female? Apparently the female ones have more seeds and are more bitter.  So that means its best to hunt down the boy aubergines – those with a small circular 'scar' at the base as opposed to a long female slit.  At least that's what Google says. I keep meaning to test the theory but never quite get round to it.
In the meantime, any aubergine will work for this dip which is a lovely alternative to the usual chickpea hummus.  The baked aubergine makes for a surprisingly rich texture and the cumin and garlic add an earthy smokiness.  Simple and delicious.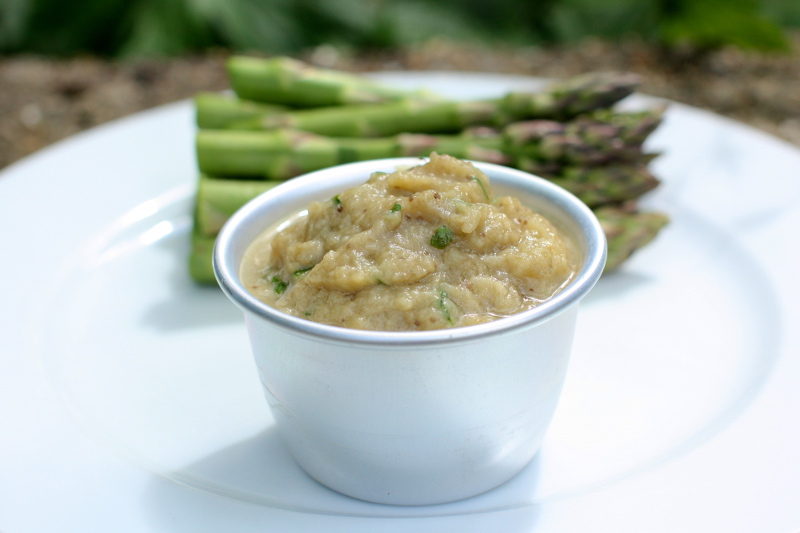 Aubergine and Coriander Dip
Ingredients
1 large aubergine
½ clove garlic, crushed
¼ teaspoon ground cumin
2 tablespoons olive oil
1 tablespoon chopped coriander
salt & pepper to taste
Method
Serves 2
Preheat the oven to 190C | Gas mark 5
Bake the aubergine whole with the skin and stalk on for 40 minutes, or until the skin has browned the aubergine feels very soft.
Leave to cool then peel off the skin.
Place the aubergine flesh in a food processor along with the crushed garlic, cumin and olive oil and blend until smooth.
Stir in the coriander and season with salt and pepper to taste.
Serve as a dip with vegetables or pita bread.