I had the urge to make something autumnal this weekend and baked fruit seemed the thing. Kind of like my own little welcome to the grey days and dark evenings that will soon define London.
Its just one of those things but every year, as it dawns that summer is over, I find myself transported with excitement to the best of autumn and winter.  Its 4th October and I'm picturing myself in front of a roaring log fire and am mentally wrapping presents for Christmas.  Yes, I do have a habit of getting carried away! That's when my husband reminds me that we don't actually have a log fire, and that Christmas is still three months away.
Still, I wouldn't let a small detail like reality dampen my enthusiasm. So this weekend I celebrated with this lovely baked autumn fruit dish – inspired by a very old old Cranks recipe book.  Its simple to make, and is surprisingly sweet as the natural fruit sugars are brought out through the baking.  The pistachio and pumpkin seed topping adds an extra bit of sweet crunch but of course is optional.  We ate this as a warm dessert with a daub of Greek yoghurt.  But as there was some left over it also made a delicious topping for my Sunday morning oat and flaxseed porridge.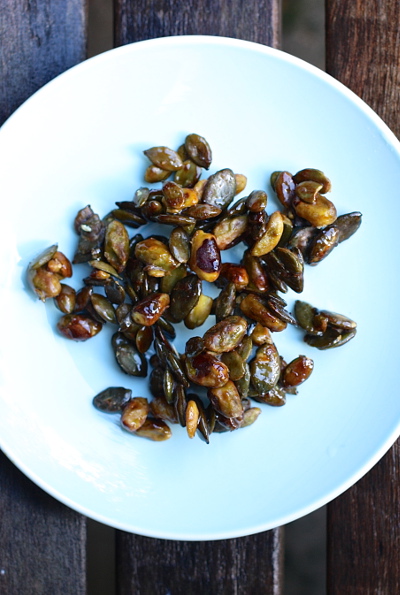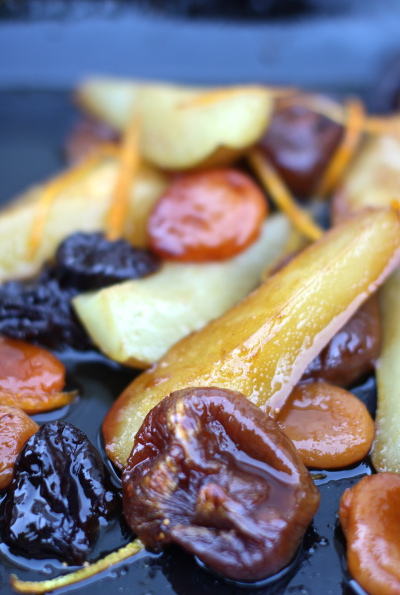 Baked Autumn Fruit with Caramelised Nut Topping
Ingredients
Baked Fruit
3 Apples
3 Pears
12 Apricots
12 Prunes
6 Figs
1 Orange
180ml | ½ cup Apple Juice
1 small piece of Ginger (grated)
¼ teaspoon Cinammon
For the topping
25g | ¼  cup Pistachios
30g | ¼ cup Pine Nuts
5 tablespoons Maple Syrup
Method
Serves 4
Preheat the oven to 180C | Gas 4.
Leaving them unpeeled, cut the apples and pears into quarters and de-core.
Place the fruit in a baking tray and add the apricots, prunes and figs.
Peel the orange and carefully cut the skin into matchstick thin strips. Set aside – you will use this later.
Squeeze the orange juice and mix with the apple juice, finely grated ginger and cinnamon.
Pour this juice mixture over the fruit, cover with tin foil and place in the oven for 45-55 minutes.
Check the fruit is tender before taking out of the oven, and spooning over the juice from the pan.
Switch the oven to a very hot grill, scatter over the orange peel strips and grill until the fruit just starts to char.
Serve with the caramelised nuts scattered on top and if you fancy, greek yoghurt.