You can tell a lot about someone by looking inside their freezer. Mine is filled with a variety of odd ingredients in little packages – mostly with the aim of being able to make a great snack or dessert super FAST.
I'll always have frozen chopped bananas at the ready, and it makes this banana ice cream one of my favourite 'ten minute desserts'. Perfect for those days when you suddenly fancy something sweet and wish you'd made something earlier.
It's probably the easiest dessert to prepare and with the added chia seeds, you're filling up on nutrition too – chia seeds are high in antioxidants, fibre and protein.
So then all you need to do is chose your topping! I made a warm plum compote this time, but you can also melt some dark chocolate, and mix with a little milk or cream (almond milk works fine too), and pour over for a delicious Coupe Denmark. Depends if it's a chocolate or fruit day!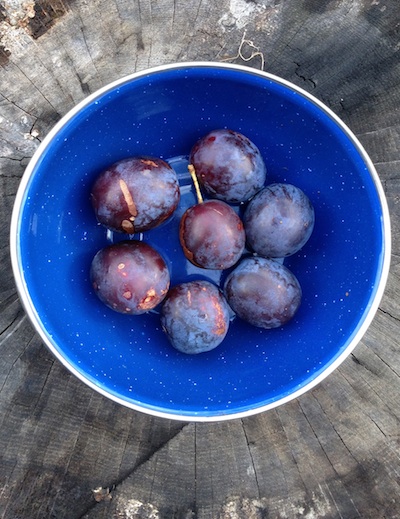 Banana Ice Cream with a warm Plum Compote
Ingredients
Ice Cream
4 large bananas
2 tablespoons almond milk
1 tablespoon chia seeds
For the plum compote
10 medium plums
½ squeezed orange (or water is fine too)
2-4 tablespoons sugar according to taste
½ teaspoon ground vanilla (optional)
Method
Serves 4
Ice Cream
Chop the bananas into pieces and place into the freezer.
Once frozen, put the banana pieces into a food processor along with the almond milk and chia seeds.
Whiz until you get a smooth and creamy consistency.
Scrape out the mixture and place back in the freezer for around half an hour.
Scoop and serve with a generous drizzle of the warm plum compote.
For the plum compote
Place the chopped and de-stoned plums in a saucepan with the squeezed orange juice, sugar and ground vanilla (vanilla is optional).
Bring boil, then turn the heat down and simmer until the fruit softens.  You can help it on its way by squashing and mixing the fruit with a wooden spoon.
Taste the mixture as it simmers, you can add more sugar if you like it sweeter.
Serve warm poured over the ice cream.