You can't beat a good brownie. But the deeper I delve into the wholesome foodie world the more I demand a certain standard – that means vegan, gluten free, refined sugar free and a brownie made from the best dark vegan chocolate. At the moment my chocolate of choice is the Lindt cooking chocolate 70% – its rich, with earthy tones and super delicious to munch on from the packet (beware it will disappear before you have a chance to cook with it).
So this brownie is pretty simple and meets all the criteria – it's rich and fudgy but not too sweet. For a fruit freak like me the blueberries add a lovely burst of fruit throughout, but if you're a brownie purist you can also leave out the fruit and go for the classic pecan brownie.  Either way the result is super delicious.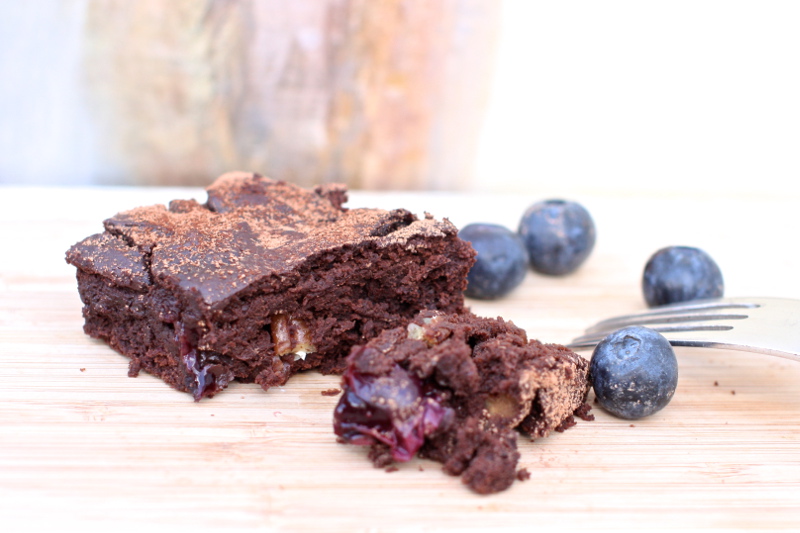 Blueberry & pecan brownies (GF, Vegan)
Ingredients
150g | 5¼ ounces dark chocolate (at least 70% cacao)
150g | 1¼ cups self-raising gluten free flour (I use Doves Farm)
3 heaped tablespoons of cocoa powder
40 g | 1/3 cup coconut sugar
300ml | 1½ cups oat milk (or milk of your choice)
4 tablespoons vegetable oil
1 teaspoon vanilla essence
30g | 1/3 cup pecans, roughly chopped
30g | 1/3 cup blueberries
Method
Preheat the oven to 180C | Gas mark 4 and line a shallow baking tray (about 20cm square) with greaseproof paper.
Break up the chocolate and place in a heatproof bowl.
Melt the chocolate by placing over a pan of barely simmering water (keep the bowl clear of the water).
Once melted, take of the heat and leave to cool for a few minutes.
Mix the flour, cocoa powder and coconut sugar in a large bowl.
Add the milk, vegetable oil and vanilla essence to the melted chocolate and stir well
Pour the chocolate mixture into the flour and mix together to combine.
Mix in the pecans and blueberries then transfer to the shallow baking tray.
Bake for 15-20 minutes until the brownie is cooked on the outside, but still quite soft inside. Be careful not to overcook.
Leave to cool in the tray, then lift out the brownie in the parchment and cut into squares.
Transfer to an airtight container to store.