When blueberries are in season, it's worth celebrating by making this super delicious blueberry slice. Imagine an abundance of blueberries combined with a ginger cashew cream and all sitting on a vanilla almond crust. It's seriously good and very simple to make!
The slice is rich and creamy, but with just the right balance of juicy sweet blueberries to make it super more-ish. You can indulge knowing its full of  the most gorgeous and nutritious ingredients. By the way, since I started making nut butters I have become a complete addict – cashew cream is so versatile – mix in a couple of spoons of raw cacao powder and you've got an amazing chocolate spread!  But for the moment I'm sticking with cashew cream and blueberries – by popular demand its the third time I've made this recipe this month.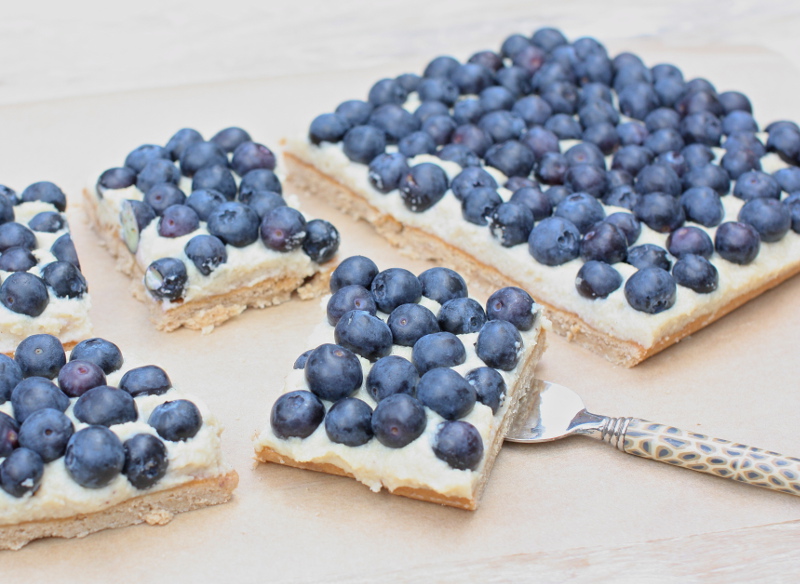 Blueberry slice with a ginger cashew cream (GF, Vegan)
Ingredients
For the crust:
2 cups ground almonds
1 teaspoon vanilla extract
2 tablespoons maple syrup
2 tablespoons coconut oil
For the cashew cream:
300g | 2 cups raw, unsalted cashews soaked for minimum 4 hours in filtered water
1 teaspoon ground ginger
½ teaspoon ground cinnamon
½ lemon, juice only
3 tablespoons maple syrup
pinch salt
1/3 cup filtered water
Fruit topping:
 300g | 3 cups fresh blueberries
Method
Makes roughly 8 slices
Pre-heat the oven to 180C | Gas mark 3 and line a shallow baking tray (roughly 20cm x 30cm) with parchment paper
For the crust, melt the coconut oil on a gentle heat and place in the food processor along with the almond, vanilla extract and maple syrup.
Whizz until you have a sticky ball. If it's slightly too dry to form a ball add 2 tablespoons water and whizz again.
Transfer to the baking tray and spread out the 'dough' with your fingers pushing it down so it covers the whole tray (dipping your fingers in water helps to not stick).
Place in the oven and bake for 10-12 minutes or until the crust is golden.
Remove from the oven and set aside on a wire tray to cool.
For the cashew cream, place all the ingredients into a high-powered blender or food processor and blend until smooth.
Add water by the tablespoon if necessary to acquire desired consistency, and adjust sweetness according to taste – this recipe starts from a not too sweet base.
Smooth the cashew cream over the cooled crust to form an even layer and top with fresh blueberries.
Slice, serve and enjoy!