I love making these carrot, beetroot and sweet potato fries to serve as nibbles with a drink before dinner – ideally while sitting in the garden on a warm, balmy evening.  Of course we're talking London here, so 'balmy' is possibly not the most likely adjective to use, even with summer on the horizon.  But that doesn't normally deter – a chilly evening just calls for a few extras like a warm jacket and a fire pit.  Suddenly the warming vegetable fries straight from the oven seem even more heavenly.
This is such a simple snack to make and with the creamy avocado its super tasty. I'll sometimes eat the fries for lunch with lemon sprinkled alfalfa sprouts. Or I'll scatter pumpkin and sunflower seeds on the avocado for some crunch. Either way, it's a great nutritious snack.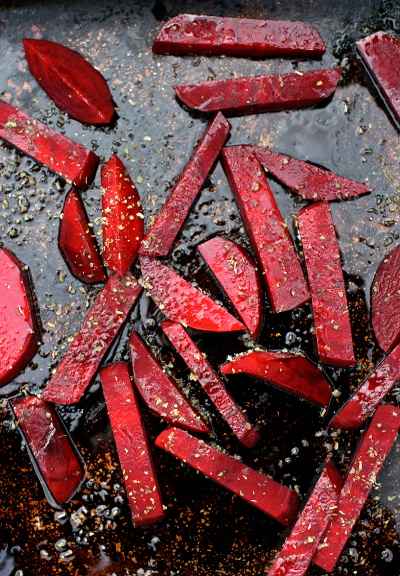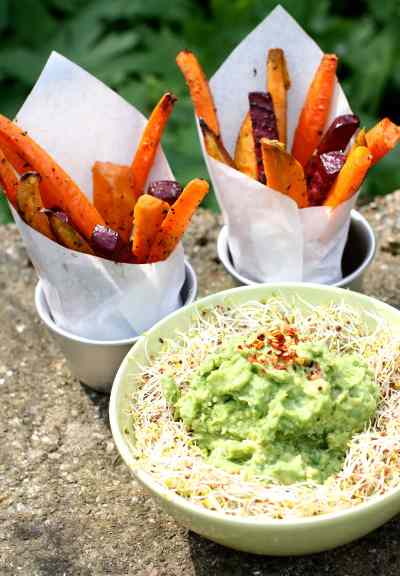 Carrot, Beetroot & Sweet Potato Fries with Avocado Dip
Ingredients
Two medium beetroots
2 sweet potatoes
3 large carrots
Olive oil
Dried mixed herbs
Sea salt
For the Avocado Dip:
2 avocados
½ clove skinned, crushed garlic
½ lemon
Chilli flakes (optional)
Method
Serves 4
Pre-heat oven to 200C | Gas mark 6.
Peel and chop the beetroots, sweet potatoes and carrots into 1 cm or so thick wedges.
Place in two baking trays – beetroot in one and sweet potatoes and carrots in the other.  This is so the red of the beetroot doesn't stain the other vegetables.
Drizzle with oil, sprinkle with mixed herbs and season with salt.
Mix the vegetables in both trays so they are coated in the oil and herbs then bake in the oven for 40 minutes or until cooked through.
While the vegetables are cooking, de-stone the avocado, scoop out the middle and mash with a fork.
Mix in the crushed garlic and juice from the lemon, then place in a bowl and sprinkle with chilli flakes (optional) ready to serve.
When the fries are cooked, serve on a platter with the avocado dip, or create individual portions by wrapping the fries in greaseproof paper (as the photos) and standing them up in narrow bowls or mugs.