These carrot cupcakes are delicious with or without the frosting but it's the vegan frosting that I recon really makes them. I'm always surprised that a cup of plain old nuts can transform into something so creamy!
The cupcakes are made from spelt, lower in gluten than wheat so easier to digest, and they're stuffed with sweet carrot, cinnamon and nutmeg. If I'm in a rush I do make them plain without any frosting – or you can also use the same recipe and create a loaf cake too. Just bake in the oven at the same temperature for 25-35 minutes instead.
The frosting is of course basically cashew nuts – its unbelievably creamy. Sometimes I'll make a double batch of the frosting. Then to the half I don't use on the cupcakes, I'll just add some cacao powder and turn it into a chocolate spread which makes toast in the morning seriously delicious.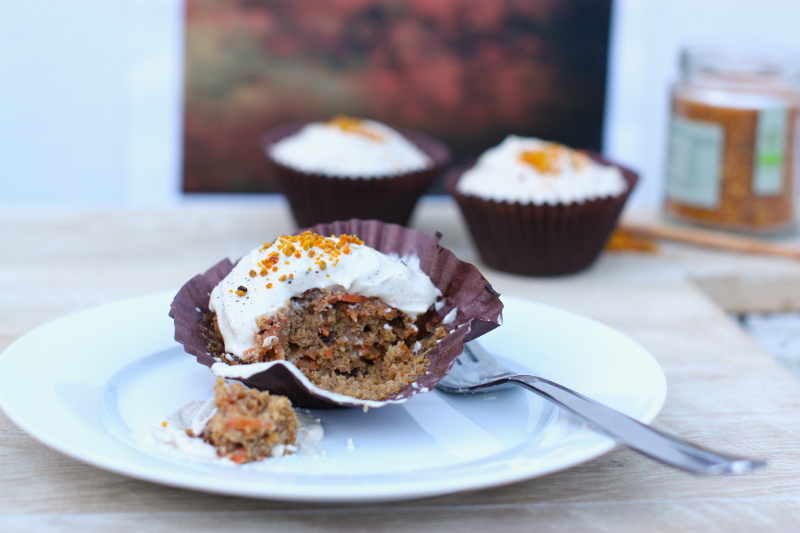 Carrot cupcakes with vanilla cashew frosting (vegan)
Ingredients
For the carrot cupcakes:
150g | 2 cups grated carrot (about 1 large carrot)
100g | 1 cup spelt flour
1 teaspoon baking powder
1/2 teaspoon bicarbonate of soda
1 teaspoon cinnamon
½ teaspoon nutmeg
2 vegan eggs*
60g | ½ cup coconut sugar (or sugar of your choice)
3 tablespoons vegetable oil
1/3 cup oat milk (or milk of your choice)
1 teaspoon lemon juice
50g | 1/3 cup raisins
* To make two vegan eggs: 2 tablespoons of either chia seeds or flax seeds mixed with 6 tablespoons warm water. Leave to stand 10 minutes until it thickens.
For the frosting:
150g | 1 cup cashew nuts
½ vanilla pod – seeds only (or ½ teaspoon vanilla extract)
3 tablespoons maple syrup
1 tablespoon coconut oil (melted)
60ml |¼ cup oat milk (or milk of your choice) plus extra depending on desired consistency
Method
For the cupcakes:
Preheat the oven to 190C | Gas mark 5 and line a tin with muffin cases.
Grate the carrot.
Mix the spelt flour, baking powder, bicarbonate of soda, cinnamon, and nutmeg together and set aside.
Mix the vegan eggs, sugar, oil, oat milk and lemon juice in a large bowl.
Add the previously mixed dry ingredients, grated carrot and the raisins and combine evenly.
Spoon the mixture into the muffin cases and bake in the oven for 12-15 minutes, or until a knife comes out clean.
Transfer to a wire rack to cool.
For the frosting:
Place all the ingredients in a high-powered food processor/ blender and whizz until smooth and creamy.
The whizzing time needed will depend on the power of your blender.
Depending on the consistency you like, you can add more milk.
Place in the fridge to cool and firm up a little (it will never be completely firm).
Use a teaspoon to coat each cupcake with frosting.