I'm always finding different ways to include more fruit in my diet and this chocolate almond soufflé is a tiny contribution to that effort.
Each pot feels like a proper chocolate dessert, warm and comforting with enough soufflé topping to be satisfying. So much so that you forget that actually half of the pot is just pure fruit – lovely warm baked pear.
The fruit and soufflé topping combine gorgeously to create a substantial dessert that is in fact very light, and of course gluten free too!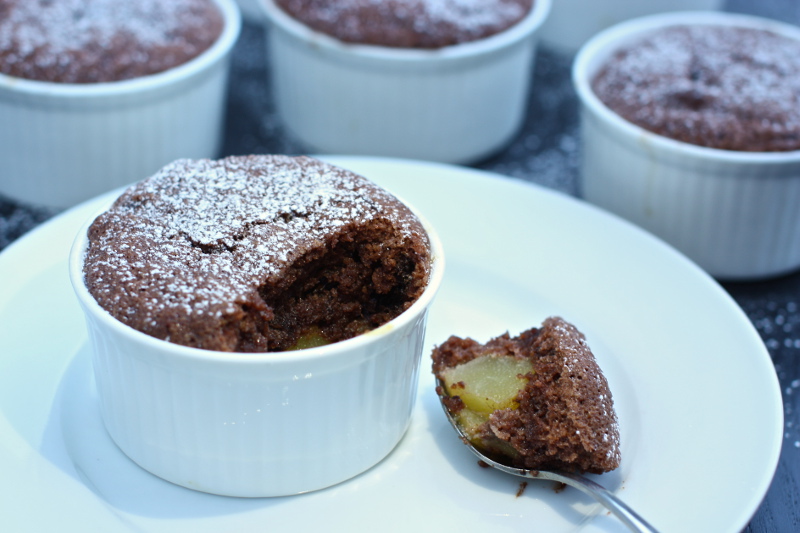 Chocolate Almond Souffle with Baked Pear
Ingredients
4 pears
40g | 1/3 cup dark chocolate
50g | 4 tablespoons butter
90g | 1 cup ground almonds
100g | 3/4 cup icing sugar
2 tablespoons cocoa powder
3 egg whites
1 teaspoon vanilla essence
Method
Makes 6 pots
Preheat the oven to 200C | Gas mark 6
Peel and chop the pears into 1 cm cubes, and place equal amounts in the six small soufflé pots.
Break the chocolate into small pieces and sprinkle half (putting the other half aside) over each of the pots of pears.
Melt the butter and set aside to cool.
Sift the icing sugar and cocoa powder into a bowl and mix in the ground almond and remaining half of the chocolate pieces.
Whisk the egg whites in a separate bowl until they form soft peaks.
Make a well in the dry ingredients and tip in the egg whites, butter and vanilla, folding the ingredients gently to form a batter.
Divide the batter among the pots, covering the pears with roughly one large tablespoon per pot.
Bake in the oven for around 15-20 minutes until the soufflé topping has risen and is just firm to the touch. Lightly dust with icing sugar and serve while still warm.