Teatime – its the country's favourite ritual – so simple, and yet so deeply soothing. On a cold wintry day in England, nothing beats that 4 o'clock steaming cup of tea.
But of course you can't drink tea at teatime without some kind of treat, and that's the daily dilemma. So these biscuits were created with that in mind – a delicious, gingery biscuit just perfect with a cuppa.
The clementine is more subtle in flavour than if you were to use orange – sweet and just slightly citrusy. The ginger brings an underlying warmth and the dates help to sweeten naturally. There's nothing fancy about these biscuits, but with so many gorgeously natural ingredients they're a delicious, nut-free healthy option.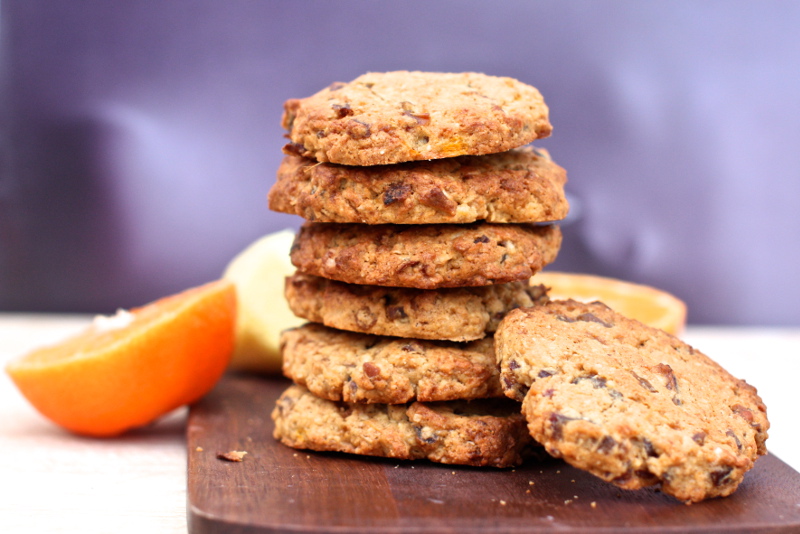 Clementine, date & ginger biscuits (Vegan)
Ingredients
2 Clementines, zest and juice
2 tablespoons coconut oil, melted
40g | 1/3 cup coconut sugar (or sugar of your choice)
50g fresh root ginger, grated
55g | ½ cup spelt flour
60g | 2/3 cup porridge oats (gluten free oats optional)
1 tablespoon baking powder
75g | ½ cup pitted dates, finely chopped
Method
Makes 12 biscuits
Preheat the oven to 200C | Gas mark 6 and line a baking tray with parchment paper.
Combine the zest and juice of the clementines with the melted coconut oil, sugar and grated ginger.
Mix the dry ingredients – flour, porridge oats, baking powder – together in a separate bowl.
Pour the dry ingredients into the wet and combine until you have a sticky dough.
Spoon out 12 balls of the dough on to the baking tray, then wetting a spoon as you go, (this stops the spoon from sticking), flatten and shape the balls into biscuit shapes.
Bake for 10-12 minutes until risen slightly and golden.
Leave the biscuits for a couple of minutes to firm up, then transfer to a wire rack to cool.