I've added a mental note to my weekly shopping list – do not buy shop-ready sticky toffee pudding. Probably quite obvious to most people, but to me who often shops on an empty stomach, anything sweet can appear quite irresistible. However it's always disappointing – the pudding is sickeningly syrupy and then there's the additional off-putting list of dubious ingredients.
So not to be done out of a good thing, this weekend I made my very own healthy version. It's predominantly sweet dates, and with the extra touch of coriander. This may sound weird, but the coriander adds a beautiful background fragrance that just takes the edge of the sweetness.  Kind of like when you add orange zest but more subtle.
I like to serve with greek yoghurt which again balances the sweetness and keeps it mostly healthy.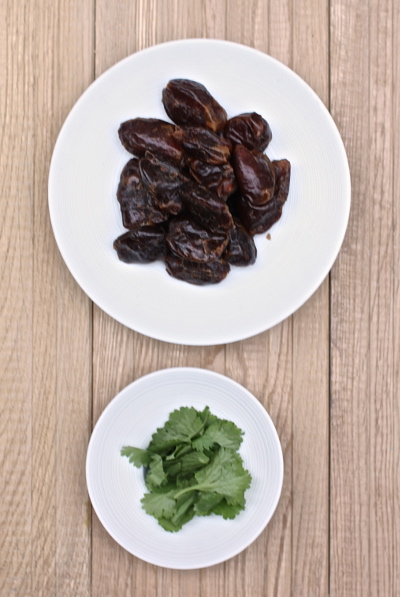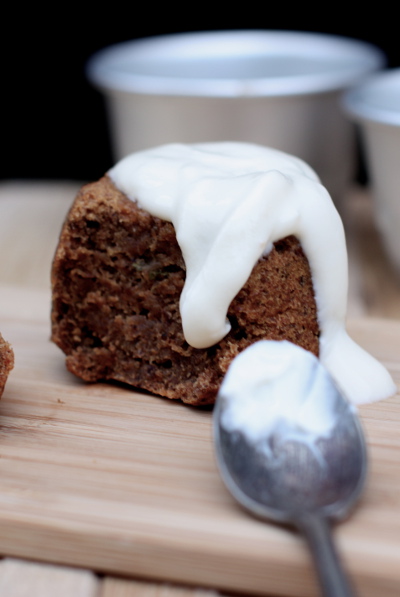 Sticky Date Pudding with a touch of Coriander
Ingredients
180g | 1 cup pitted dates
180ml | ¾ cup water
1 teaspoon vanilla extract
4 tablespoons maple syrup
2 level tablespoons finely chopped coriander
2 large eggs
85g | 1 cup self raising flour
1 tablespoon butter and extra to grease the moulds
Method
Makes 4 puddings
Preheat oven to 180C | Gas mark 4 and prepare 4 pudding moulds by greasing with butter.
Put the dates and water in a pan and simmer for five minutes.
Pour the softened date mixture into a food processor with the vanilla extract and maple syrup and blend.
Separate the eggs then add the yokes, flour and coriander to the processor. Blend until mixed in, then transfer to a large bowl.
Whisk the egg whites in a separate bowl until stiff then carefully fold into the date mixture.
Pour the mixture into each of the pudding moulds until three quarters full.
Cover each with tin foil, stand in an ovenproof dish and pour in hot water to half way up the sides of the moulds.
Cook for 40-45 minutes, or until an inserted knife comes out clean.
Leave to cool for a few minutes then turn the puddings out onto plates loosening them from the sides of the mould with a knife if necessary.
Serve warm on their own, or with greek yoghurt, custard, or cream.