Have you ever tried baking bread?  If you haven't, you must!  It's super easy, very satisfying and it seems like pretty much whatever you do, the bread tastes good.
I'm a bit obsessed with packing my bread full of nutrients – like nuts, seeds, and fruit. It's my way of making sure that I can still enjoy toast for breakfast knowing it's doing me some good.
And as I try to avoid wheat, this loaf made with spelt is a great alternative.  Spelt contains less gluten, is more easily digestible and its packed with nutrients that wheat doesn't have.  I've used both light and whole spelt in this recipe but you can also use 100% whole spelt for a darker, rougher loaf, equally delicious. Walnuts are also a great addition, for an even nuttier loaf.
I promise once you've started making you're own bread you'll be addicted!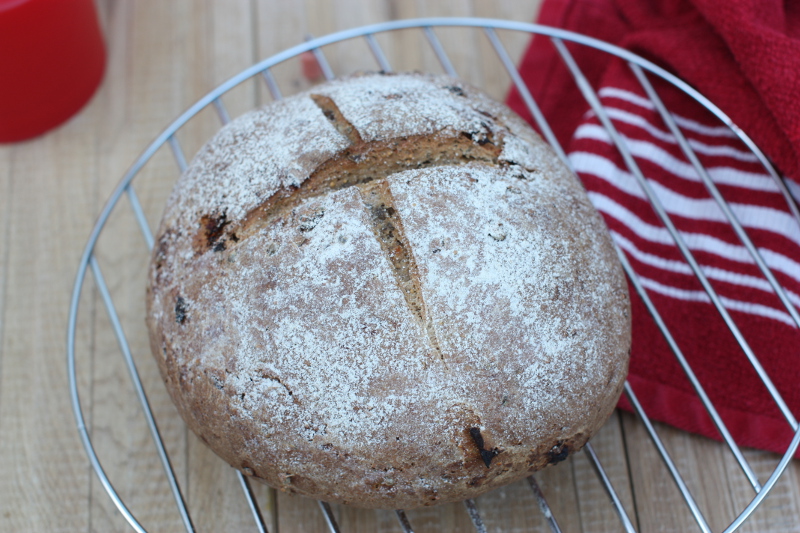 Fig and Hemp Seed Spelt Bread
Ingredients
300g | 3 cups whole spelt flour
200g | 2 cups light spelt flour
1 teaspoon active dry yeast
¼ teaspoon salt
100g | 3/4 cup dried figs
45g | 1/3 cup hemp seeds (toasted & ground)
300ml warm water
2 tablespoons olive oil
Method
Mix the two spelt flours, dry yeast, and the salt in a large bowl.
Place the hemp seeds in a shallow pan and dry cook over a medium heat for a few minutes, or until you can start smelling a gorgeous toasty smell (move the seeds around frequently and watch over them to avoid burning!)
Once cooled, grind the seeds in a pestle and mortar and add to the flour mixture along with the figs, sliced previously into pieces.
Pour the warm water and two tablespoons of olive oil into the flour and mix until it is a 'shaggy mess'.
Then take it out of the bowl and knead gently until the dough becomes smooth (expect the dough to be slightly stickier than wheat flour)
Form a ball with the dough and place in an oiled, covered bowl to rest in a warm place for around one hour or until the dough has risen to 1 ½ its original volume.
Preheat the oven to 200C.
Knock back the dough and knead gently knead just once or twice to form into a ball.
Place onto a baking tray and make a couple of slashes if desired, then dust with flour, cover with a tea towel and leave to rise until the dough has a light spring to it.
Place in the oven and bake for 40 minutes, or until there's a hollow sound when you tap the base of the loaf.
Cool on a wire rack, slice and enjoy!