I'm usually the first one to keep chocolate plain – a simple dark chocolate truffle beats a Caramel Swirl any day. But there's a simplicity to these fruit and nut chocolate discs – the pure vegan dark chocolate set against the cranberries and nuts is really really good.
I like to make them with really dark chocolate so that the cranberries offer a nice sweet contrast.  The pistachios and pumpkin seeds then add a lovely nutty crunch.  But of course you can top with whatever you fancy – walnuts, hazelnuts, raisins, or dehydrated strawberries is delicious too.
And I love that you can use the chocolate of your choice.  A lot of 85%+ chocolate is vegan. I particularly like the Lindt 85%. The options to create are endless!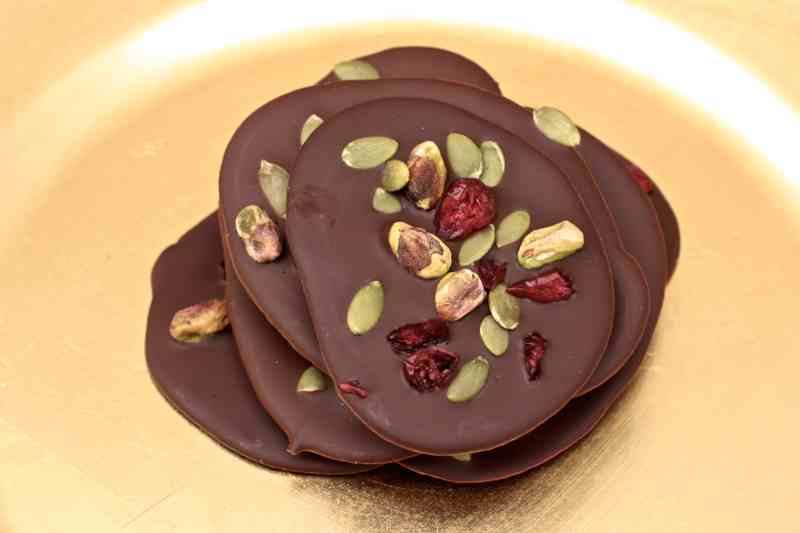 Fruit and Nut Chocolate Discs (GF, Vegan)
Ingredients
100g | 3.5 ounces best dark vegan chocolate
¼ cup pistachios
¼ cup pumpkin seeds
¼ cup dried cranberries
Method
Makes 6 chocolate discs
Break up the chocolate into pieces and place in a heatproof bowl.
Melt the chocolate by placing over a pan of barely simmering water (keep the bottom of the bowl clear of the water)
Spoon the melted chocolate onto greaseproof paper – around 1 or 2 tablespoons per disc, using the back of the spoon to spread the chocolate out.
Sprinkle the pistachios, pumpkins seeds and cranberries over the discs while the chocolate is still a little melted, and then place in the fridge to harden.
Best kept in the fridge until you're ready to eat them.