There are favourite foods in our house that have to be shared out equally and with exact precision to avoid a mild riot at the dining table.  Everyone fights hard for their fair share.  These blueberry buckwheat pancakes are one of those foods (weirdly, grated cheese is another).
They are super easy to make and the buckwheat makes them healthily gluten free.  Buckwheat is one of those often misunderstood ingredients – its thought of as a grain when in fact it's a seed from a plant. It has great anti-cholesterol properties and is a slow release food too.
These  pancakes are satisfyingly filling, but with the buckwheat they're also light to digest. I tend to pile them with fresh berries during the summer months and serve with drizzled yoghurt or maple syrup.  Though bananas and Nutella disappear pretty quickly too in our house if the option is there!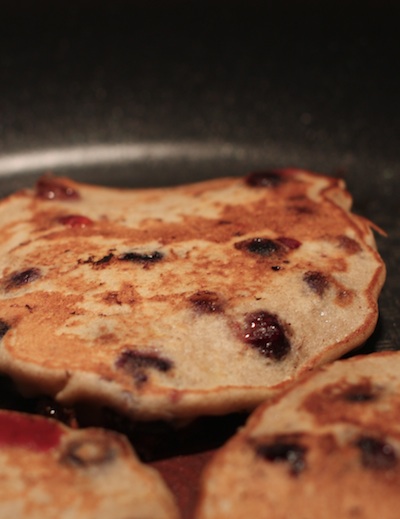 Blueberry Buckwheat Pancakes
Ingredients
1.5 cups | 180 grams buckwheat flour
2 teaspoons baking powder
4 medium bananas
1 large egg
1 teaspoon vanilla extract
1 cup | 240ml almond milk
2 cups | 200 grams blueberries
Olive oil (or butter if you prefer) for frying
Method
Makes 12 pancakes
In a large bowl, mix the buckwheat flour and baking powder
Mash the bananas in a separate bowl, adding the beaten egg, vanilla essence and almond milk
Pour this banana mixture into the flour and combine. Finally, gently stir in the blueberries
Heat a frying pan with olive oil (or butter) on a medium heat and pour in ¼ cup of batter per pancake (in a large frying pan, you can cook 3 pancakes at a time)
Cook for 2-3 minutes and flip pancake, cooking for further 2-3 minutes or until golden brown. Adjust the heat as necessary
Place pancakes in a warm oven while you cook the batch
Serve with extra fruit and drizzle with maple syrup or yoghurt