I love bite size food.  There's something very satisfying about making small things and these little gluten free mini chocolate chip cookies are no exception. They are also vegan, with no refined sugar (just a small amount of maple syrup) and protein packed.  So overall they make for a really deliciously healthy cookie.
I also love that just a couple of these cookies are satisfying enough with a cup of tea.  Warm from the oven they are heaven! The dark chocolate is still slightly gooey, and the almond is soft and light in a melt in your mouth kind of way.  I've made these a few times recently because they're perfect for those days when its approaching tea time and you decide quite last minute that you want a treat with your cup of tea.  Knowing that you can make them in 20 minutes is pretty good.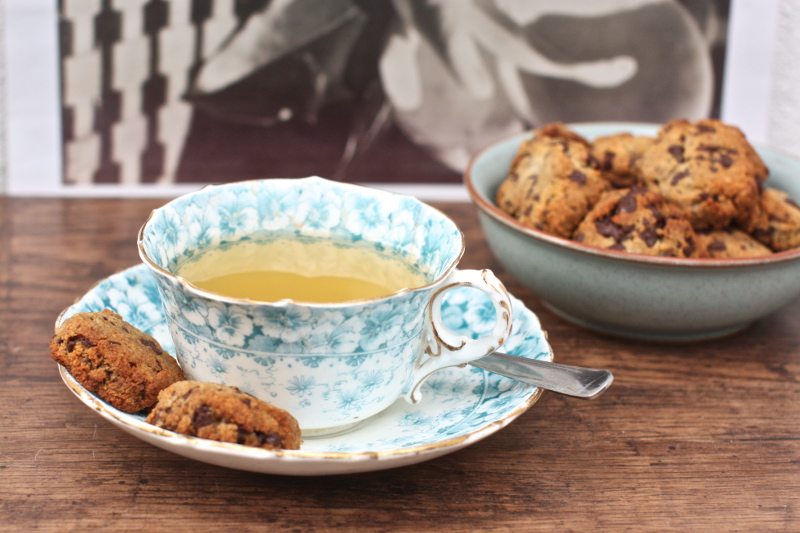 Mini chocolate chip cookies (gf, vegan)
Ingredients
75g | 3/4 cup ground almond
25g | 1/4 cup oat flour (just whizz normal oats in the processor to create flour if you don't have actual oat flour)
¼ teaspoon baking soda
1 tablespoon coconut oil
1 tablespoon maple syrup
1 teaspoon vanilla extract
2 tablespoons oat milk (or milk of your choice)
40g | 1.5 ounces dark chocolate (minimum 70% cocoa)
Method
Makes roughly 12 bite size cookies
Pre-heat the oven to 170 Celsius | Gas mark 3
Place the ground almond, oat flour and baking soda in a food processor and whizz briefly to combine.
Melt the coconut oil and add to the dry mixture then add the maple syrup and vanilla extract.
Pulse to form a dough ball.  Depending on if its too dry add the milk, a little at a time and continue to pulse until a ball forms.  Then take the dough out of the food processor.
Chop the chocolate into little chunks, and with your fingers knead the chunks into the dough ball so they are evenly distributed.
Line a baking try with parchment paper and place small blobs of the dough mixture onto the tray.
Press down into rough little circles then place in the oven and bake for 8-10 minutes or until golden brown.
Be warned: they are super delicious eaten straight out of the oven!