These gluten free peach pies are all about the fruit.  They're about celebrating the gorgeousness of the peaches, beautifully sweet and juicy.  And while there's still peaches in the shops I'm making the most of it.
I may have got a little carried away recently as I bought three boxes.  Of course I wasn't going to manage to eat them all, so it's been a week of peach recipe creations.
With the peaches so naturally sweet, this recipe only uses a small amount of coconut sugar – in fact you could leave the sugar out entirely and you probably wouldn't notice.  The gluten free pastry is the result of quite a bit of experimenting – a combination of ground almond and sweet sorghum flour.  It makes a delicious crust and a perfect topping to the peaches.  The sorghum flour is full of protein and iron, but if you can't find it easily (I buy it on Amazon)  just substitute with the flour of your choice.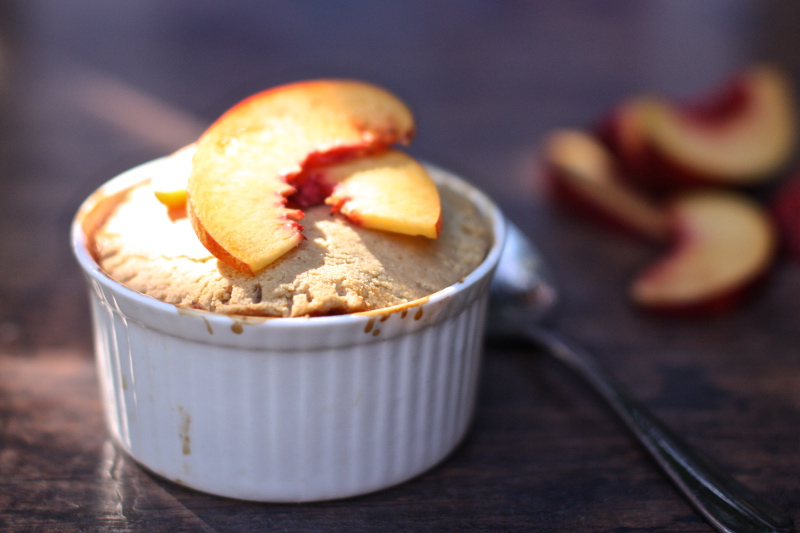 Mini peach pies (gf, vegan)
Ingredients
For the pastry:
140g | 1½ cups almond flour
30g | ¼ cup sweet sorghum flour (or substitute with flour of your choice)
2 tablespoons butter or coconut oil
1 flaxseed egg (1 tablespoon ground flaxseed + 3 tablespoons warm water, mix and leave for 5 mins)
1 pinch salt
For the peach filling:
8 peaches
1 tablespoon coconut sugar
Method
Makes 6 mini pies
Preheat the oven to 180C | Gas mark 4
Place the almond flour, sorghum flour into a food processor and pulse until combined.
Add the butter/ coconut oil, egg and salt and continue to pulse until a dough forms.
Place the dough between two sheets of parchment paper, roll out to roughly ½ cm thick then, place in the freezer for 10 minutes to cool.
Peel and de-stone the peaches, chop and slice into pieces then mix with the coconut sugar.
Divide the chopped peaches between 6 ramekin dishes – they should be almost full.
Use the cooled pastry to cut round 'lids' for the ramekins, placing a lid on top of each one.
Stab a couple of holes in the pastry, and push down round the edges with a fork.
Place in the oven and bake for 30-40 minutes or until the fruit bubbles and the pastry is golden.  Delicious served warm.