Good news – we no longer need to feel guilty about eating chocolate.  The research bods at Harvard University have studied 8,000 men for 65 years, and have announced that chocolate helps you live longer, and is good for stress. Lucky then, because there are certain days when nothing comes near chocolate for sheer pleasure and bliss.  And it's on those days that I make these gorgeously rich little chocolate cakes.
I make the cakes with actual melted chocolate (its got to be at least 70% cocoa) because it adds a lovely richness. Maybe its psychological but cocoa powder alone just doesn't quite do it.  The cakes never last long at home, but if there are any leftover I store them in the fridge and by the next day they settle to become very smooth, rather like a dense chocolate mousse cake.
The eggs and ground almond make them high in protein, while the banana helps sweeten naturally.  So along with the antioxidants and all the great news about chocolate, they're actually a rather healthy option.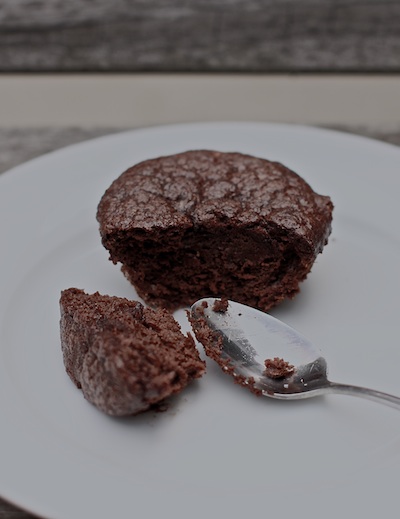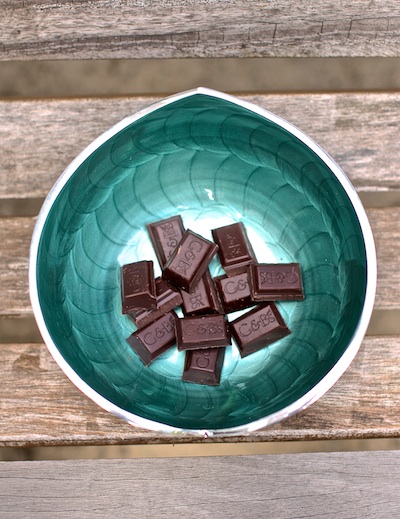 Rich & Healthy Mini Chocolate Cakes
Ingredients
100 g chocolate (minimum 70% cocoa)
90 g | 1 cup ground almonds
1 tbs cocoa powder
1 tsp baking powder
1 banana
2 tablespoons light olive oil
2 tablespoons maple syrup
2 eggs
Method
Makes 8 mini chocolate cakes
1. Preheat oven to 170 C | Gas Mark 3
2. Melt the chocolate in a bowl by placing over simmering water. Once the chocolate is melted set aside  to cool a little.
3. While the chocolate is cooling mix the ground almond, cocoa powder and baking powder together.
4. Mash the banana in a separate bowl and mix in the oil, maple syrup and eggs.
5. In a large bowl combine the melted chocolate, the dry mixture and the banana mixture.
9. Spoon the mix into muffin cases and bake for 12-14 minutes.