Grapefruit is such a brilliantly healthy way to start the day, and warmed under the grill with honey and walnuts it's also the most delicious. The grapefruit is still refreshing even when warm, and the honey transforms the tart citrus notes into a soft blend of sweet and mellow. Eating this feels like you're doing your body good – its kind of sunshine on a plate.  I promise it's even better than you'd imagine.
Just be sure to cut round and across the grapefruit with a small sharp serrated knife to separate the segments before serving. It's worth taking time doing this properly beforehand so that the eating is pure pleasure.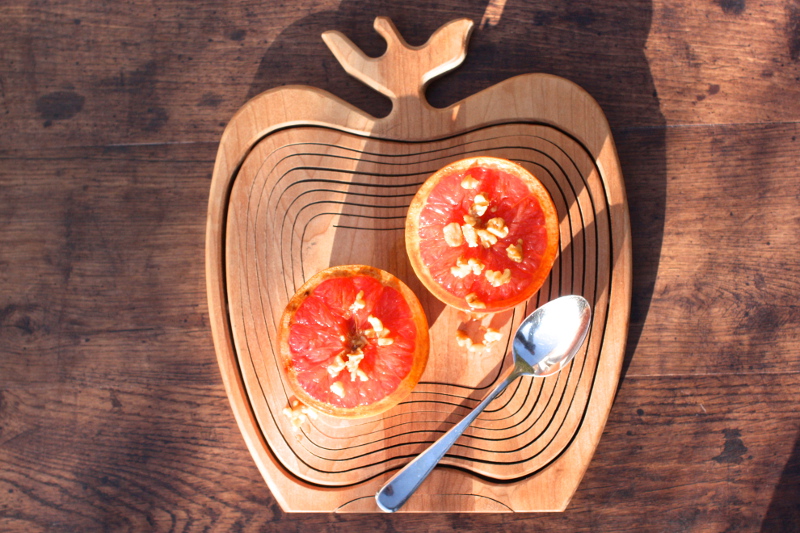 Grilled pink grapefruit with honey walnuts
Ingredients
2 pink grapefruits, halved
2 tablespoons coconut sugar
3 tablespoons chopped walnuts
2 tablespoons honey
Method
Serves 2 to 4
Put the grapefruit halves on a baking tray fleshy side up and sprinkle with the coconut sugar
Place under a very hot grill for 3-4 minutes or until the sugar melts and the grapefruit edges begin to brown.
Meanwhile mix the honey and walnuts in a small pan and warm on a gentle heat until the honey is melted and the walnuts are nicely coated – just a few minutes.
To serve place the grapefruit halves on plates and drizzle with the warm honey coated walnuts.  Use a small serrated knife to cut and separate the segments so that they are easy to spoon out.