My journey to work every morning consists of one major dilemma –  what snack to buy to keep me going until lunchtime.  This is a daily conversation I have with myself as I walk the ten minutes from the tube.  It's not that there aren't some excellent coffee shops in the area, its just that none of them have quite what I'm looking for.
Sure there are the days when a croissant is just the thing, and then there's always the option of a banana from the mini supermarket.  But mostly I pass on all the croissant-type options, get to work and then regret not bringing something from home because I'm starving.
So this week will be a good one as I'll satisfy my hunger with these protein-filled hazelnut biscuits.  They're what I'm always looking for but can never quite find – a freshly made, high protein snack that feels like a treat, and is great with a cup of tea.  The biscuits last well in an air tight container so happily will be good for the whole week.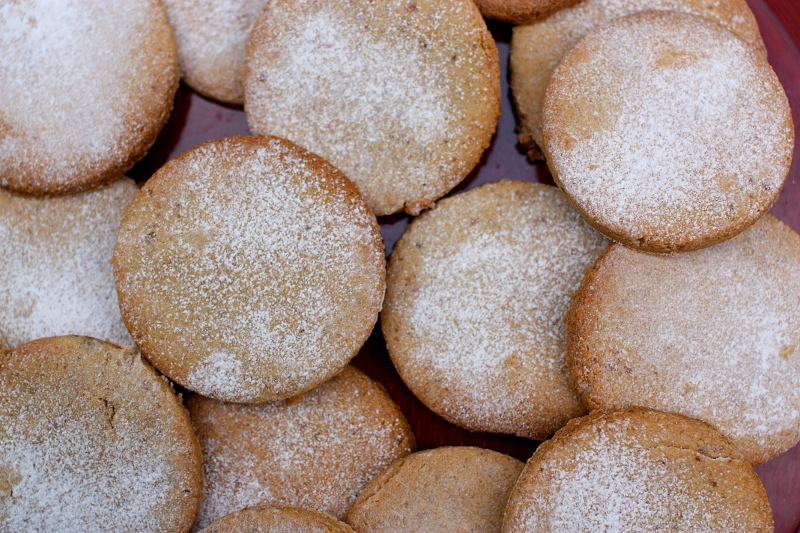 Toasted Hazelnut Biscuits with a hint of orange
Ingredients
240g hazelnuts | 2 cups
7 tablespoons gluten free flour (or plain flour)
1 egg
4 tbs maple syrup
Grated zest of one orange
1 teaspoon coconut oil/ butter
1 tsp vanilla extract
Sifted icing sugar to decorate (optional)
Method
Makes 14 biscuits
Pre heat oven to 180 C/ Gas 4
Place the whole hazelnuts in a baking tray and roast for 8-10 minutes turning once.
Once roasted, leave the hazelnuts to cool and then grind them in a food processor to create an even crumb.
Place the egg, maple syrup, orange zest, vanilla extract and coconut oil (or butter) in the processor with the ground hazelnut and mix until it forms a sticky dough.
Place the  dough in between two sheets of baking parchment and roll out to around ½ inch thick then place in the freezer for 20-30 minutes.
Once the dough is cold, cut out biscuit shapes, placing them carefully onto a baking tray.
Scoop up left over dough, and repeat the rolling out/ cutting shapes until all the dough is used up.
Bake in the oven for 12-14 minutes until the biscuits turn a golden brown.  Remove from the oven and dust with icing sugar immediately (this is optional), then turn out onto a wire rack to cool.