What do you reckon the difference is between a cookie and a biscuit? I was going to call these chocolate and almond cookies, but somehow it felt wrong. Cookies are fat and chewy and in your face.   These are slim, refined and subtle.  They're crunchy and not too sweet either, so all in all I recon that makes them biscuits?
Either way, they're brilliant to make on a Sunday as a snack to munch throughout the week.  My kids are always happy to find these at home after school and I can feel quietly smug that they're eating healthy protein. You may just find you have to make a double batch if you want them to last any length of time!
The chocolate is 70%, so dark and satisfying, and the maple syrup adds just a little sweetness.  Yes, this biscuit is definitely the restrained and quieter relative of the cookie.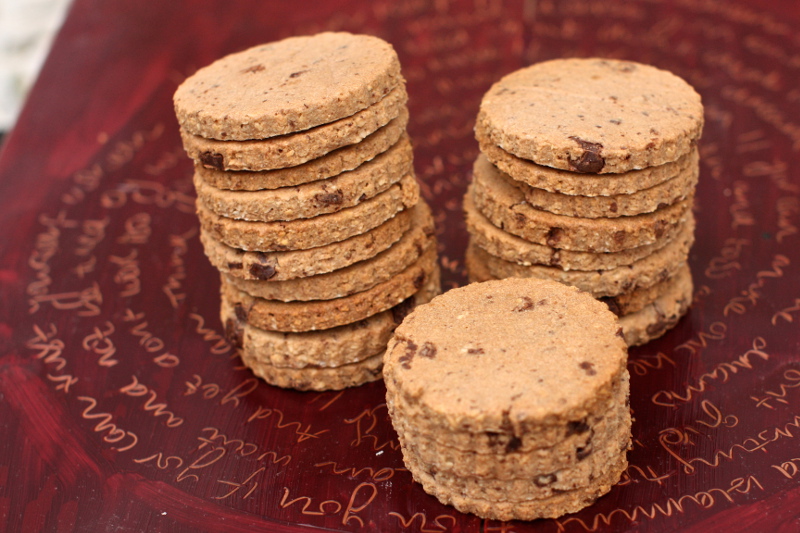 Chocolate & Almond Biscuits (gf, vegan)
Ingredients
180g | 2 cups ground almond
2 tablespoons arrowroot (or gluten free flour)
1 heaped teaspoon coconut butter
1 flaxseed egg (mix 1 tablespoon ground flaxseed with 3 tablespoons warm water, leave to thicken for 5 minutes)
2 tablespoons maple syrup (or honey)
½ teaspoon vanilla extract
60g |1/3 cup 70% vegan chocolate cut into small chunks
Method
Makes 25 small 2inch/5cm biscuits (but you can also use a bigger cutter)
Place all the ingredients into a food processor and mix until a paste/ball forms. The dough will be sticky but this is fine.
Scrape out the dough and place between two sheets of parchment/baking paper.
With the dough still between the two sheets, roll out to slightly less than ½ cm thick.
Place the paper/dough into the freezer and leave for half an hour.
After the 30 minutes, pre-heat the oven to 180 | Gas mark 4
Take the dough out of the freezer and cut the cookie shapes, reforming and cutting until all the dough is used up.
Bake on a tray for 10-12 minutes or until golden then cool on a wire rack.