This is the perfect dessert if you're making dinner for friends.  It's quick to prepare in advance and will sit happily in the fridge until you're ready to serve.  And lets face it you can't go wrong with chocolate!
If anyone is feeling guilty about eating dessert, you can reassure them it is made with 75% cocoa and is in any case half fruit.  The mousse is satisfyingly rich without being too sweet and the raspberries lighten the dessert and bring a lovely fruit burst.  Of course if you're a chocolate purist you can just leave out the raspberries.
I'm all for making chocolate mousse the vegan way – super simple.  This is basically just chocolate and aquafaba which is the brine/liquid in a can of chickpeas.   Thank you chickpeas for making a magical liquid that whisks up just like egg white!
PS Most supermarket canned chickpeas contain salt which is ok in the recipe.  But even better if you can find the salt free version in your local health food store.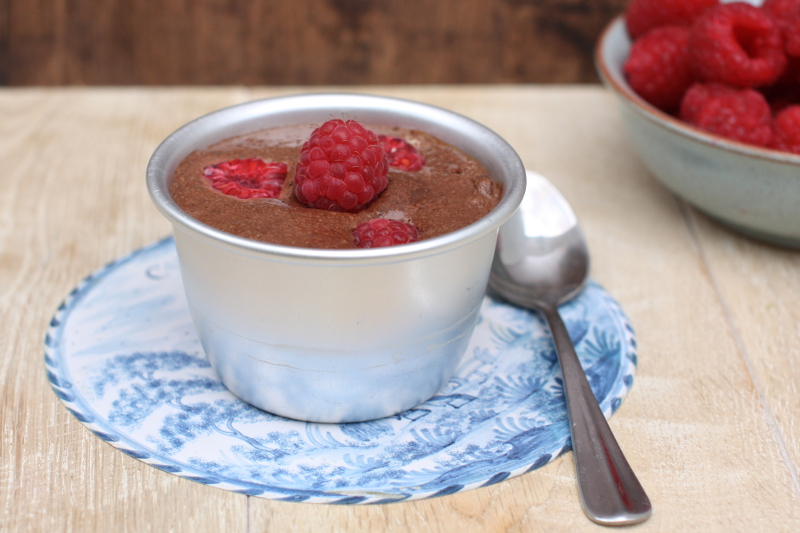 Healthy chocolate mousse with raspberries (gf, vegan)
Ingredients
100g | 4.5 ounces dark vegan chocolate (min 75% cocoa)
170ml | 3/4 x cup aquafaba (the brine/liquid in tinned chickpeas)
1/4 teaspoon cream of tartar (optional)
1 teaspoon sugar
130g |1 cup raspberries
Method
Serves 4
Break up the chocolate and place in a heatproof bowl
Melt the chocolate by placing over a pan of barely simmering water (keep the bowl clear of the water)
Once melted, take off the heat and leave to cool for a few minutes
Add the cream of tartar to the aquafaba and whisk to stiff peaks (be patient this may take a few minutes). Add the teaspoon of sugar slowly while you whisk
Gently fold the whisked mixture into the slightly cooled chocolate, then carefully fold in the raspberries, leaving a few raspberries aside to decorate
Share the chocolate mixture between four bowls and refrigerate for a few hours until set
Decorate as you wish with raspberries, and serve