I'm in love with these gluten free lemon and cashew shortbread biscuits.  I'm sure I'll get bored of them eventually but in the meantime I've taken to making up a double batch at the weekend and storing it in the fridge in bake-ready rolls of dough.  They can then be baked up in no time, and with no hassle during the week – its so easy and seriously delicious.
The biscuits are full of protein from the cashews, almonds and the sorghum flour, so they're a very satisfying snack, full of lemony zing. The sorghum flour helps bind the dough, but you can also make them with ground almonds only, or just replace the sorghum for any flour of your choice.  Sorghum has become my go-to gluten free flour because it's not as grainy as some and doesn't have a strong taste – brilliant in this case because it lets the gorgeous cashew and lemon shine through.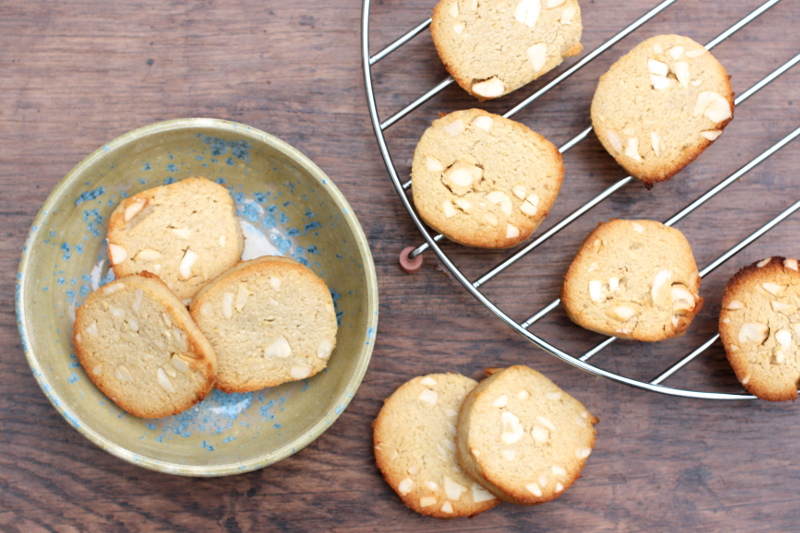 Lemon and cashew shortbread (gf, vegan)
Ingredients
65g | ¾ cup ground almonds
35g | ¼ cup sweet sorghum flour (or flour of your choice)
¼ teaspoon baking soda
1 tablespoon coconut oil
1 lemon
2 tablespoons honey
40g | ¼ cup cashew nuts, roughly chopped
Method
Makes 12 biscuits
Mix the ground almonds, sorghum flour and baking soda in a bowl.
Grate the rind of the whole lemon and mix into the dry mixture, and then squeeze the juice of half of the lemon into the bowl.
Melt the coconut oil and add to the mixture along with the honey and the cashew nuts.
Mix well until a dough forms. If the dough doesn't stick together easily, add one tablespoon of water and continue to mix until you have a dough ball.
Roll the dough into a cylinder shape with your hands, rather like a log, and wrap tightly in cling film.
Place in the fridge for at least 2 hours, ideally overnight.
When you're ready to make the biscuits, preheat the oven to 170 Celsius | Gas mark 3.
Unwrap the dough and cut it into 1cm/ ¼ inch thick slices.
Place the biscuit slices on a baking tray and bake for 12-15 minutes or until the edges turn golden brown.
Leave the biscuits on the baking tray for 5 miutes before transferring to a wire rack to cool.