I fancied making these mini pistachio cakes this weekend. No particular reason why you'd bake tiny little cakes, except that I promise it's very satisfying!
These gluten free miniatures are adapted from a great pistachio cake recipe that features in Rose Carnarini's cookbook Rose Bakery. Rose's recipe creates a very rich cake, so I've stripped out much of the butter and sugar, and by creating these little versions, they become like petit fours – one or two are just perfect with a cup of coffee.
The cakes are very delicate both in size and flavour.  The pistachio and lemon just marries well and you really don't need more than a couple to feel satisfied. When it comes to cakes I recon small really is beautiful.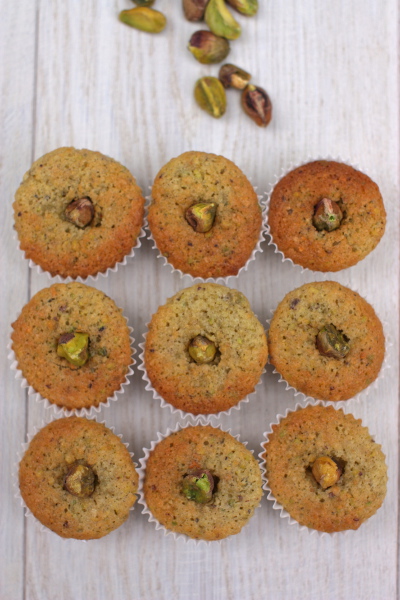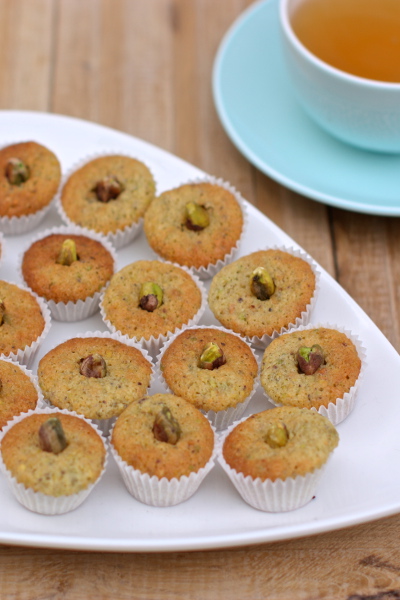 Gluten free mini Pistachio Cakes
Ingredients
50g | 5 tablespoons butter
50g | 1/3 cup sugar
Zest of one lemon
1 tablespoon vanilla
2 eggs
50g | ½ cup ground almonds
50g | ½ cup ground pistachio
¾ teaspoon baking powder
Method
Makes 26 mini (petit four size) cakes
Preheat the oven to 200C |Gas mark 6 and place around 26 mini baking cases (4cm diameter) onto a baking tray.
In a bowl, beat the butter and sugar until they become creamy and light in colour.
Mix in the lemon zest and vanilla essence.
In a separate bowl mix the ground almonds, pistachios and baking powder.
Add the eggs along with two tablespoons of the dry ingredients to the creamed butter and sugar, and beat well.
Finally fold in the rest of the dry ingredients.
Carefully fill the mini baking cases using roughly a generously heaped teaspoon of mixture per case (or you can squeeze the mixture into the cases with an icing bag if you have one).
Place in the oven and bake for 10-12 minutes or until golden.