Miso soup is so soothing and nourishing. It's the perfect soup to make when you're feeling like you need a boost – if you want something really healthy but substantial. You'll be surprised how filling it is.
I like to add greens to the classic seaweed and tofu mix mostly because I add greens to everything, but they do add a chunky freshness to the soup which balances the seaweed nicely. There are a variety of different types of miso out there, I tend to go for the white miso made from part rice which is earthy, gentle and slightly sweet. But the red miso made from pure soybean is richer, more salty and really good if you like your soup hearty.  Its worth experimenting and then keeping a jar of your favourite miso in the fridge because there really isn't an easier way to make a healthy fast soup.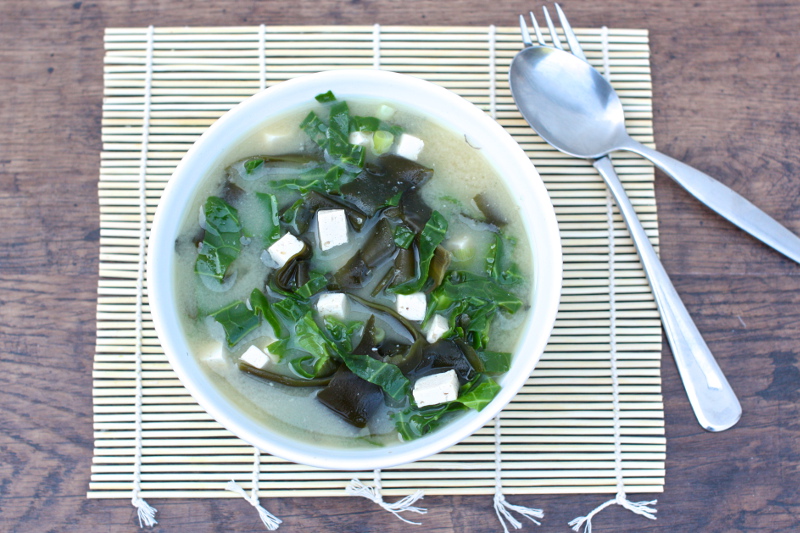 Miso soup with spring greens
Ingredients
700ml | 3 cups water
2 tablespoons dried nori or wakame seaweed, cut into pieces
1 bunch spring greens (about 3 cups chopped)
4 spring onions
100g | 3.5 ounces tofu, cubed
2-3 tablespoons miso paste
Method
Serves 2
Place 3 cups of water in a saucepan and bring to the boil.
Reduce the heat, then add seaweed and simmer for 5 minutes until soft.
Add the spring greens, spring onion & tofu.
In a separate cup mix a little water with the miso paste and mix until smooth.
Add to the soup mixture and simmer for a few minutes until the greens have softened.
Season with salt or more miso according to taste, and serve.