About three months ago I set myself the task of creating a sugar-free apple cake for those days when a healthy tea-time treat is the order of the day.  Weeks later I've just finally created my perfect recipe.  It's been trial and error until now, but a lot of apples later, this simple apple spelt loaf has passed the test with flying colours.
The cake is super delicious warm from the oven. The grated apple adds a subtle sweetness throughout the sponge, and then the chunks of apple and the raisins bring a sweet zing.  You'd really never know there was no sugar.  It's a pleasingly simple cake and just perfect with a cup of tea.  Hope you enjoy.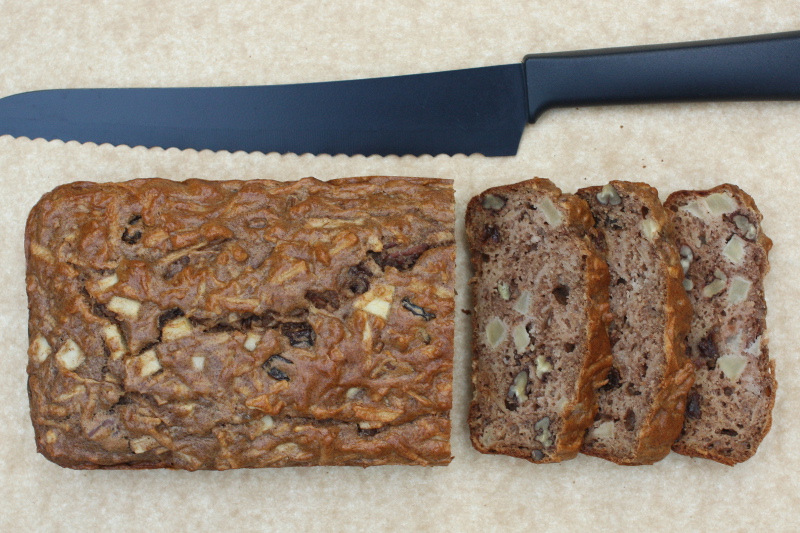 No Sugar Apple & Cinnamon Loaf (vegan)
Ingredients
130g | 1 cup grated apple & 60g | ½ cup chopped
apple in ½ cm cubes (about 2 apples in total)
30g | ¼ cup raisins
30g | 1/3 cup roughly chopped pecans
5 tablespoons olive oil
2 vegan eggs**
100g | 1 cup spelt flour
1 teaspoon cinnamon
1 teaspoon baking powder
** To make two vegan eggs: 2 tablespoons of either chia seeds or flax seeds mixed with 6 tablespoons warm water. Leave to stand 10 minutes until it thickens.
Method
Pre heat the oven to 190C | Gas mark 5
Grease a medium loaf tray with a little olive oil (I also like to line the bottom with baking paper)
Mix the grated apple, chopped apple, raisins and pecans in a large bowl.
In a separate bowl beat the egg and the olive oil, then combine with the apple mixture.
Again in a separate bowl, mix the spelt flour, cinnamon and baking powder together so they are well combined, then fold into the mix.
Scrape the mixture into the loaf tray, smoothing the surface, and bake for 20-25 minutes or until a knife comes out clean.
Cool on a baking tray and enjoy!