In the depths of winter I try to make the most of the fruit available locally.  So it's apples, apples, and more apples at the moment! I don't mind – much as I love all the summer fruit, there's something reassuring about enjoying winter fruit during the cold months.  It's like embracing the seasons, but knowing that there's something to look forward to in the inevitable spring/ summer change.
This baked apple recipe is a great healthy finish to a meal. Its apple, but together with all the ingredients, it magically turns into something greater than the sum of its parts if you see what I mean. And that's the pleasure of cooking.
Soft apple, with hints of orange and cinnamon sit alongside a gorgeous sweet date topping. And then the walnuts just add the nutty crunch. My kids like to eat this with a dollop of ice cream, but being a purist, I prefer it clean.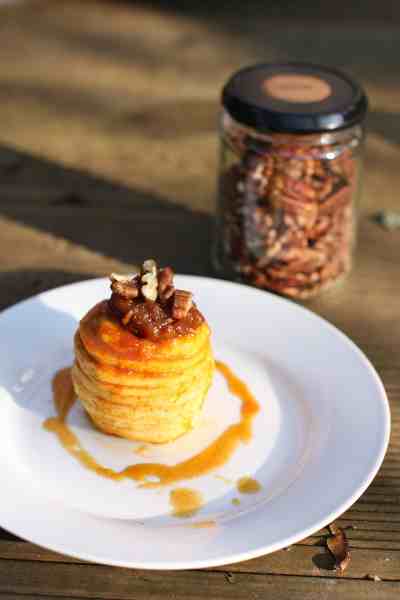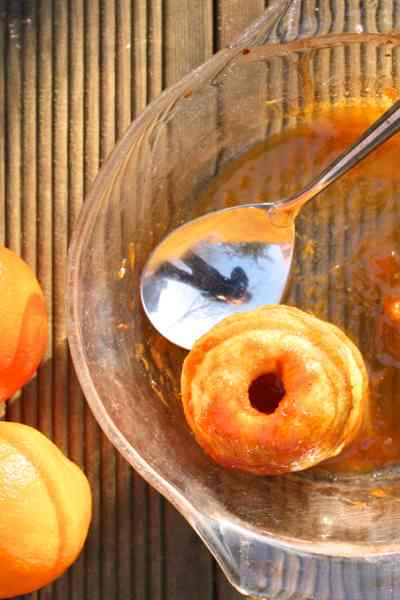 Orange and Cinnamon Baked Apple, with a Date & Walnut topping
Ingredients
4 eating apples
4 oranges
4 tablespoons honey
½ teaspoon cinnamon
½ cup | 70g dates
6 tablespoons water
50g | ½ cup walnuts
Method
Serves 4
For the baked apple:
Pre-heat the oven to 170C | Gas mark 3
Grate the rind of one of the oranges, and place in a small saucepan along with the juice of all four oranges.
Add the honey and cinnamon, then simmer over a low heat for around 10 minutes until the mixture begins to thicken slightly. Set aside.
Peel and core the apples, then cut each one into horizontal slices.
Dip each slice into the warm orange sauce, re-assembling the apple as you go.
in a baking tray.
Pour the remaining sauce over the apples, cover loosely in tin foil and bake in the oven for one hour.
Baste the apples with the juice a couple of times during the baking.
For the date topping:
Place the dates and water in a small saucepan and simmer for around 3-5 minutes until the dates are soft.
Mix and squash with a fork until you have a smooth, creamy topping.
Serve the baked apples warm from the oven, with a spoonful of the date topping on top, and a sprinkle of walnuts.