According to Chinese medicine, pears are a 'cooling' food – they're in the same category as cucumber and watermelon – that when eaten, have a cooling effect on the body. Years ago I was told by a Chinese doctor that for most of us who eat far too much 'hot' food (like coffee, wine, chocolate and pretty much anything roasted) a pear eaten for breakfast every day will help balance the body by countering the heat. Her words have stuck with me and I still eat a pear first thing most mornings.
So this weekend, after our very roasted dinner (roast lamb, roast potatoes and roast parsnips) it kind of felt right and a little virtuous to serve this cooling pear sorbet. It really is a palette cleanser with the lime just giving it a gentle zing against the subtle taste of honey. And it's definitely the kind of dessert that balances any heavy or rich meal so if you're like me, you'll feel better for it!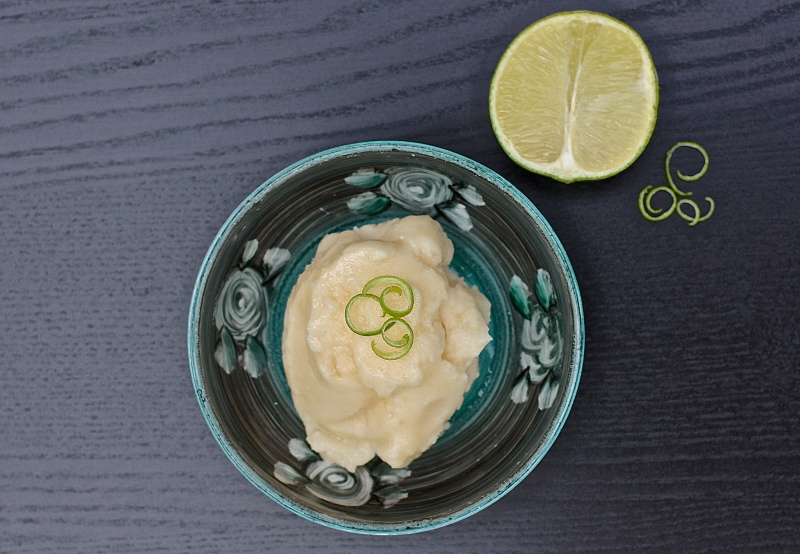 Pear, Honey & Lime Sorbet
Ingredients
6 ripe conference pears
2  limes
5 tablespoons honey (or according to taste)
Method
Serves 4
Peel, core and slice the pears into pieces.
Mix with the juice of one lime and place in a freezer until frozen.
Place the frozen pears into a food processor with the juice of the second lime, and the honey.
Blitz until it becomes smooth and creamy – you may need to stir a few times so it blitzes evenly.
Scrape out the mixture and place back in the freezer for around half an hour before serving.