I love desserts that include chocolate yet still feel healthy.  It depends on what chocolate you use of course, but so long as you buy organic minimum 70% cocoa you can't go wrong. I prefer to buy vegan chocolate and luckily many good brands over 70% are dairy free – just check the ingredients.  Melted and combined with fruit its pretty easy to concoct the most perfect treat.
And so it's no surprise that these warm pears drizzled with dark chocolate taste heavenly.  The soft warm pear is light and sweet and then the dark chocolate adds the most delicious cocoa richness.   Its a serious contender for the most simply delicious dessert.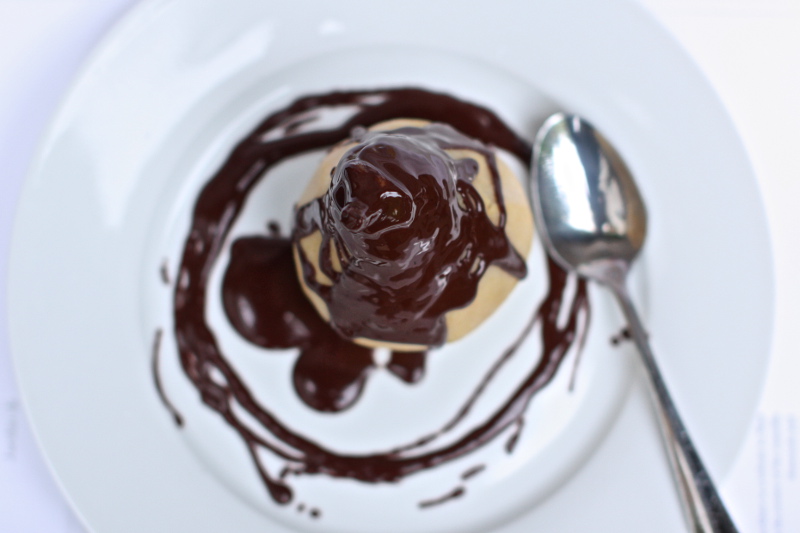 Poached Pears with Melted Dark Chocolate
Ingredients
4 pears
2 oranges, juiced and zested
½ lemon, zested
1 cinnamon stick
100g | 3.5oz dark chocolate (70%)
Method
Serves 4
Peel the pears leaving the stalks on.
Place the pears in the smallest pan possible so they fit snuggly together lying on their sides.
Add the orange juice, rind of the orange and lemon, and the cinnamon stick.
Next add boiling water until the pears are just covered.
Simmer for 10 minutes or until the pears are soft (this will depend on how ripe they are).
Carefully take the pears out of the pan and set aside ready to serve.
Break up the chocolate and place in a heatproof bowl.
Melt the chocolate by placing over a pan of barely simmering water (keep the bowl clear of the water).
Once melted pour the warm chocolate over the pears & serve.