I'm kind of a newbie to the 'raw' food experience but so far, so amazing.  These raw chocolate tarts are a hybrid of a few recipes I found online – you literally just throw the ingredients into the processor, press out the little tarts and they're done!  So easy, super healthy and the best is they're seriously delicious.
The dates make the tarts nicely sweet, the coconut yoghurt adds a contrasting creamy tang and then the figs come in with a gorgeous ripe jammy sweetness that bring the flavours together.  What's not to love!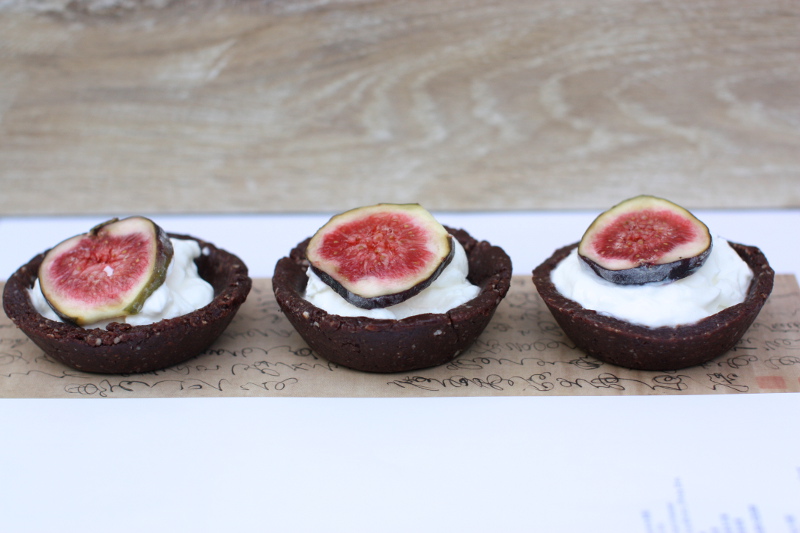 Raw Chocolate Tarts with Figs & Coconut Yoghurt (GF, Vegan)
Ingredients
70g | ¾ cup oats (optional gluten free)
80g |¾ cup pecans
2 tablespoons raw cacao (or cocoa power)
120g | ¾ cup pitted dates
2 tablespoons maple syrup
250g | 8oz carton coconut yoghurt
6 ripe figs
Method
Makes 10 tarts
Place the oats in a food processor and blitz until they turn to flour.
Add in the pecans, raw cacao, dates and maple syrup and continue to process until the mixture clumps together and forms a thick dough (this may take a little longer than you expect).
Line a cupcake or muffin tin tray with cling film and divide the sticky dough between the muffin moulds.
Press the dough down into each of the moulds with your fingers to create little tart cases.
Place the tray in the fridge for 10 minutes or so to firm up then gently ease the tart cases off the cling film/ tray.
If you are preparing these in advance, just wrap the cases in cling film and store in the fridge.
When you're ready to serve, fill each tart case with a generous spoon of Greek yoghurt and top with sliced fig.