If you like strawberries you'll love this raw strawberry mousse cake and it really is the simplest recipe to make. The mousse topping is just fresh strawberries, Coyo yoghurt* and maple syrup whipped together. So if you're looking for an impressive dessert that is secretly very easy to make, this one is for you. My family have gone a little bonkers for it.
The best thing to do if you're making this recipe for a dinner is to prepare the two parts (base and strawberry mousse topping) in advance.  Press the base into the loaf tin but store the mousse separately in the fridge. Then about 45 minutes before you're going to serve dessert, just put the mousse onto the base, place in the freezer for 30-40 minutes to firm up and serve immediately. That way the cake won't be over-frozen – the outside will be nicely firm and the inside will be deliciously soft.
*Coyo yoghurt is a creamy coconut milk yoghurt.  You can find it in most health stores, or up market supermarkets.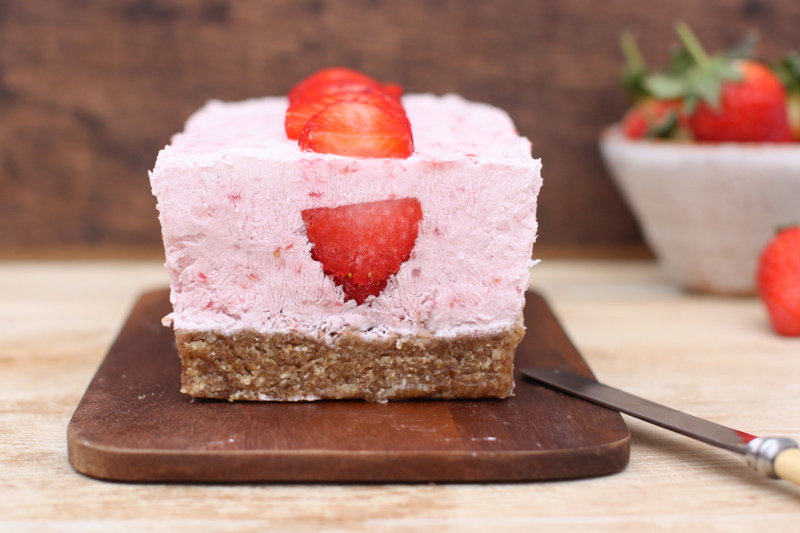 Raw strawberry mousse cake (GF, VEGAN)
Ingredients
100g |1 cup walnuts
50g | 1 cup oats (gluten free)
120g | 1 cup dates
150g | 1 cup strawberries (plus few extra to decorate)
400g | 14 ounces (1 large tub) natural 'Coyo' yoghurt
2 tablespoons maple syrup
Method
Whizz the walnuts, oats and dates in a blender until combined and sticky.
Line a loaf tin with cling film, and press the walnut mixture firmly down into the lined tin to form a base.
Blend the strawberries until smooth and mix with the Coyo yoghurt and maple syrup.
Scrape the strawberry mixture into the loaf tin and smooth with a spoon.
If you wish you can press a few strawberries upright into the mousse mixture (so when you cut the cake you will have strawberry inside)
Place in a freezer for 30-40 minutes to firm up.
Remove from the loaf tin, decorate with sliced strawberries on top if you wish, and serve immediately.