There's something very honest about this roasted red pepper and butternut squash tart. Its so simple – no funny sauces or rich fillings – just the most gorgeous roasted vegetables infused with garlic and then placed within a herby almond crust.
The garlicky vegetables are the real star of the dish, and while the tart is healthy, the almond crust also makes it very satisfying. I sometimes make a larger batch of the dough that I then roll into portions of ready-to-use crusts and freeze. That way I can just grab a crust, defrost and its ready to go. Every day healthy eating is definitely about making things easy I reckon.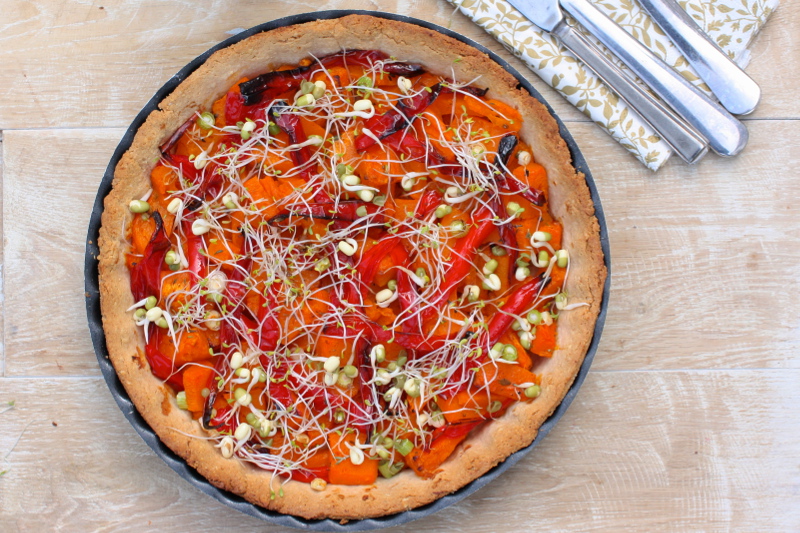 Roasted red pepper & butternut squash tart (gf, vegan)
Ingredients
For the filling:
1 medium/large squash
1 large red pepper
1 onion
2 cloves garlic
Olive oil
Mung beans & alfalfa sprouts (optional) 
For the crust
180g | 2 cups ground almond
3 tablespoons oats
1 tablespoon dried mixed herbs (mixed 'provencal' herbs are good)
½ teaspoon salt
40g | 3 tablespoons coconut oil
1 vegan 'egg' made by mixing 1 tablespoon ground flaxseed & 3 tablespoons water – leave to thicken for 10 minutes
Method
Serves 4
For the filling:
Preheat the oven to 190C | Gas mark 5
Peel and dice the squash, slice the pepper and then peel and slice the onion roughly
In a large baking tray crush the garlic and mix with a couple of generous splashes of olive oil.
Mix the vegetables with the oil making sure they are well coated.
Bake in the oven for 30-35 minutes or until the vegetables are nicely soft and roasted.
Set aside.
For the crust & final tart:
Add the ground almond, oats, herbs and salt and whizz briefly to mix.
Melt the coconut oil and add to the dry mixture along with the egg/ vegan egg.
Process until you have a thick paste-like dough.
Scoop the dough onto a large piece of greaseproof paper and place a second piece of paper on top.
With the dough in between the two pieces of greaseproof paper, roll out to about ¼ inch thick.
Place in the freezer for 20 minutes or until the dough is a firm sheet.
Preheat the oven to 170C | Gas mark 3 and grease a 24cm | 9.5 inch tart tray with coconut oil
Take the dough out of the freezer, place in the tray and press to shape with your fingers.
Bake in the oven for 12-14 minutes or until the pastry is gently golden
Fill the tart with the roasted vegetables and return to the oven for 10 minutes.
Serve immediately (or this tart is great cold too).
Optional to sprinkle with mung beans & alfalfa sprouts which add a freshness and crunch and look pretty too.