On a cold, wintry day you can't beat a comforting bowl of this roasted squash, coconut and chickpea soup. It's creamy and chunky and with just enough crunch from some chopped celery to keep it fresh tasting. The coconut and coriander add a lovely fragrant taste to the roasted squash and chickpeas. And the mild heat of the chilli sets off the creaminess. A good hearty, filling meal!
And just a note on canned chickpeas: There are good ones – soft and tender, and then there are bad ones – hard as bullets. In London at least, I find the Spanish brands are always the best. It's worth hunting down a good brand not only for this soup, but it also makes a world of difference if you're making hummus, salad or anything really.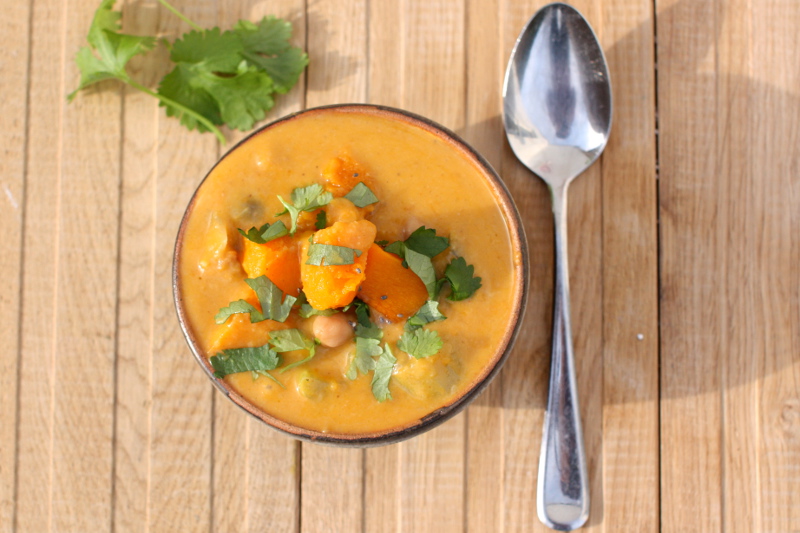 Roasted squash, coconut & chickpea soup (vegan)
Ingredients
1 medium butternut squash, peeled and diced
olive oil
1 onion, finely chopped
2 stalks celery, chopped
½ teaspoon mild chilli powder
1 teaspoon ground ginger
230ml | 1 cup coconut milk
750ml | 3 cups vegetable stock
400ml | 1½ cups canned (so cooked) chickpeas, drained
Salt & pepper to taste
Handful of fresh, chopped coriander
Chilli flakes & coriander to garnish (optional)
Method
Serves 4
Pre-heat the oven to 200C | Gas mark 6.
Toss the chopped butternut squash in a drizzle of olive oil and roast in the oven for 40 minutes or until the squash is soft and cooked through.
In a large pan, fry the onions until translucent, then add the celery and continue cooking on a low heat for roughly 5 minutes.
Stir in the chilli powder and ground ginger coating the vegetables well, and fry for a further couple of minutes.
Add the coconut milk, vegetable stock, chickpeas and simmer for 5 minutes.
Stir in the cooked butternut squash, simmer for a few minutes and season with salt and pepper to taste.
Leave to cool then decant one third of the soup into a food processor and blitz until smooth.
Mix the pureed and non-pureed soup together, warm through, and stir in the chopped coriander.
Serve garnished with chilli flakes and extra coriander (optional).