I never used to be a fan of flapjack – the stodgy, overly sweet kind.. But since I've experimented with my own healthier versions I'm a complete fan. With sweet oats and a load of seeds and cranberries, what's not to love!
These flapjacks are so easy and quick to make – they're a nice treat to take to work for those mid morning munchies, and always go down well with the kids for school.
I pack in a load of seeds, partly for the extra nutrition boost, but also because it gives the flapjack a nice crunch. And then the fruity cranberries give it a zingy lift. Monday mornings at work are always a little brighter with a flapjack treat!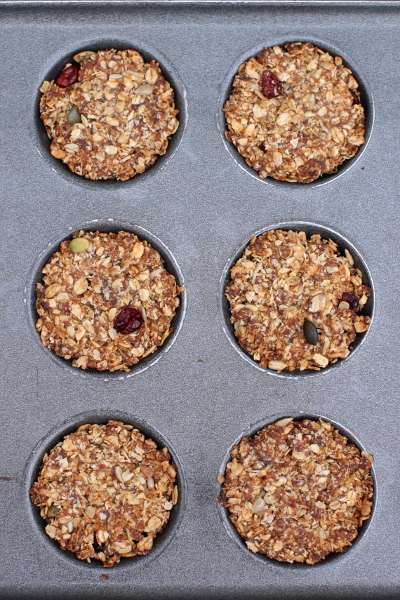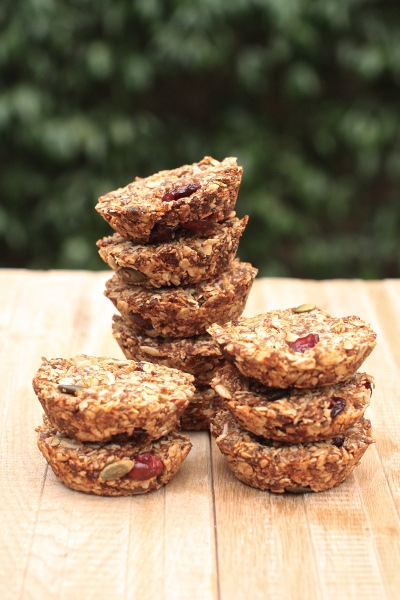 Seedy, Fruity, Healthy Flapjack Recipe (GF, Vegan)
Ingredients
150g |1 cup dates
70g | 1/3 cup coconut oil
160g | 2 cups gluten free oats
2 tablespoons cranberries
2 tablespoons sunflower seeds
2 tablespoons pumpkin seeds
3 tablespoons maple syrup
Method
Makes 10-12 round flapjacks
Pre-heat the oven to 180C | Gas mark 4 and lightly grease a 12x cup cake tin with coconut oil by rubbing a little with your fingers.
Put the dates into a food processor and process until they are chopped up and clump together in a sticky ball.
Melt the coconut oil in a pan over a low heat and add in the processed dates.  Stir the two, breaking up the clumped dates into smaller pieces– the dates won't actually mix into the oil but this doesn't matter.
Once the dates are warmed, take the pan off the heat and stir in all the dry ingredients and the maple syrup.
Combine well – using your fingers is easiest – and then share amongst the 12x cupcake tin moulds pressing each down one individually with your fingers to compact the mixture.
Place in the oven and cook for 10-12 minutes or until golden brown.
Remove from the oven and leave in the tin until completely cooled.