Spelt and fig crackers are super delicious and surprisingly easy to make.  They're also much better than the shop bought crackers that are often very salty and full of highly processed ingredients. It's the simplicity of the ingredients that makes them so good either as a snack on their own, or topped with your favourite dip.
The key to baking these crackers to crispy perfection is rolling out the dough as thinly as possible.  It's pretty easy as you just roll out the dough straight onto a flour-sprinkled baking tray and keep rolling until the dough won't stretch any more.  Be sure to flour the tray generously or use parchment paper to ensure the crackers don't stick as they cook.
The figs give the crackers a very subtle sweetness.  It's hard to settle for the shop bought varieties once you've made your own.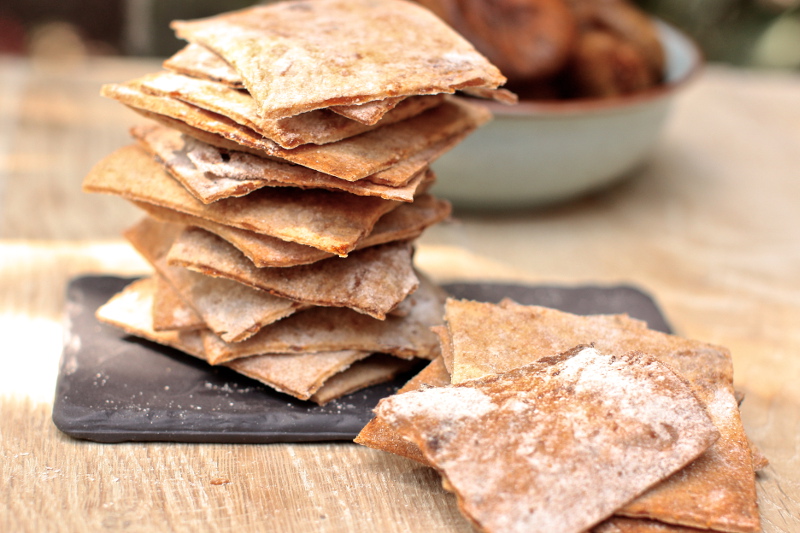 Spelt and fig crackers (vegan)
Ingredients
2 cups | 200g light or wholemeal spelt flour
3 soft dried figs cut into pieces
pinch salt
2 tablespoons oil
½ cup water
Method
Makes roughly 24-28 crackers
Preheat the oven to 180 celsius | Gas mark 4
Place the spelt flour, chopped figs and pinch of salt into a food processor and pulse until the figs are very finely chopped and mixed into the flour.
Add the oil and three quarters of the water and pulse until a dough ball forms.
If the mixture is too dry and doesn't form a ball, add the remaining water a little at a time and pulse again (if the mixture becomes too wet just add a little extra flour).
Heavily dust a baking tray with flour (or line with parchment paper), and splitting the dough in two balls, roll out one of the dough balls directly on the baking tray – as thinly as possible.
Score the rolled out dough with a knife to form cracker size squares.
Repeat the above with the second ball of dough using a second baking tray.
Bake for 12-15 minutes or until golden brown.
Store in an airtight container.