This is one super hearty, protein-packed soup – the kind of soup that's a meal on its own and keeps you full for ages. And that's why I love it!
The combined spices – cumin, chilli and cinnamon – bring warm, earthy, aromatic flavours, with just a hint of spice.  Then the parsley gives it a wonderful fragrant lift. Its miles away from the blended, bland tinned lentil soup we got as kids, though funnily enough I kind of liked that too.
This soup is packed full of goodness and is super delicious, so be warned – if you make it once, it may just become one of your favourite meals. It's definitely one of mine.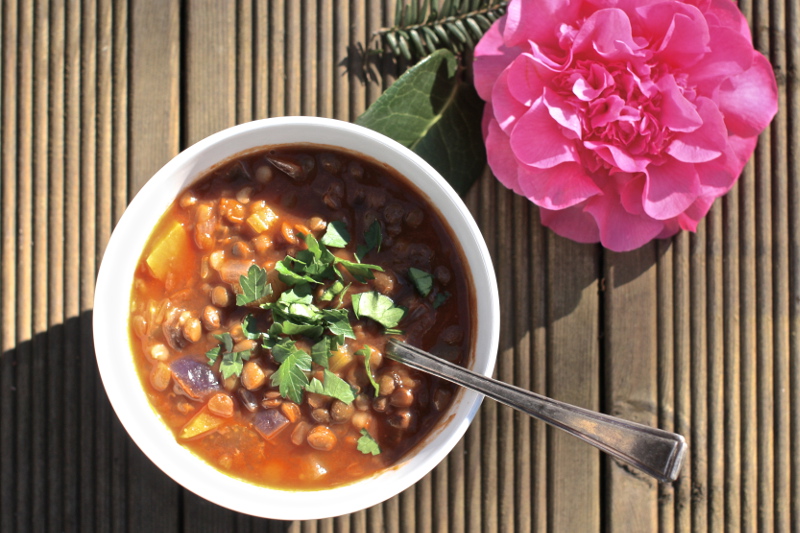 Spiced Green Lentil Soup with Aromatic Parsley
Ingredients
1 large onion, finely chopped
1 large carrot, diced small
2 stalks celery, trimmed and chopped
1 teaspoon ground cumin
2 cloves garlic, minced
1½ teaspoons ground cinnamon
½ teaspoon chilli powder
480g | 4 cups cooked, strained green lentils (equivalent in the UK to 2 tins)
2 tablespoons tomato puree
720ml | 3 cups vegetable stock
1 bunch |1 cup roughly chopped parsley
Method
Makes 6 bowls
Drizzle a little oil into a large, deep frying pan, add the onions and fry over a medium heat until they turn translucent.
Add the carrots, celery and garlic, and cook for another 5 minutes or so.
Next stir in the cumin, cinnamon, and chilli powder and cook briefly until fragrant, for about a minute.
Add the cooked lentils, tomato puree and vegetable stock, bring to the boil then simmer uncovered for 20 minutes adding salt and pepper to taste.
Take off the heat, stir in ¾ of the parsley and you're ready to serve.
Sprinkle the remaining parsley on the top of each bowl for decoration.