Summer definitely arrived in London this week – 36C and the hottest June day ever apparently.  So it seems kind of appropriate to celebrate with these little Summer fruit tarts.  They are brimming with fresh juicy fruit and the crust is nutty and just perfectly sweet.
I always think of fruit tarts as kind of decadent as they're expensive if you buy them from a patisserie.  But these are like the understated version – cream and sugar stripped out – just seriously delicious fruit of your choice and a nutty gluten free pastry. Yum.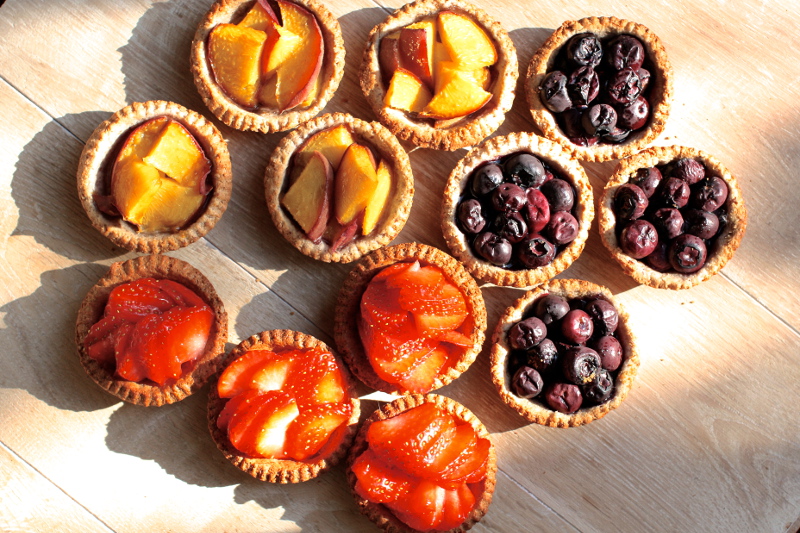 Summer Fruit Tarts (GF, Vegan)
Ingredients
For the crust:
100g | 1 cup ground almond
100g | 1 cup pecans
2 heaped tablespoons oats (gluten free optional)
40g | 1.5 ounces coconut oil (plus a little extra for greasing)
½ teaspoon vanilla extract
1 flaxseed egg (mix 1 tablespoon ground flaxseed with 3 tablespoons water, leave for 10 minutes to thicken)
For the fruit filling:
Summer fruits of your choice:
Strawberries, blueberries, peaches, raspberries etc.
Method
Makes roughly 16-18 little tarts
Place the pecans in a food processor and whizz until they are ground.
Add the ground almond and oats and whizz briefly to mix.
Melt the butter/oil and add to the dry mixture along with the egg.
Process until you have a thick paste-like dough.
Scoop the dough onto a large piece of greaseproof paper and place a second piece of paper on top.
With the dough in between the two pieces of greaseproof paper, roll out to about ¼ inch thick.
Place in the freezer for 20 minutes or until the dough is a firm sheet.
Preheat the oven to 160C | Gas mark 3 and grease a muffin tray with butter or coconut oil.
Take the dough out of the freezer, cut out little rounds and place in the muffin tin moulds, pressing to shape with your fingers.
You can either bake the tarts empty, or fill with fruit like blueberries and sliced peaches so that the fruit is baked too.  I like to half fill with blueberries/ peaches, and leave half empty.
Place in the oven and bake for 10-12 minutes or until the crust is golden.
Once cooled, fill the empty tarts with summer fruit and serve.