The thing about living in London is that you're pretty guaranteed rubbish weather for at least a couple of days a month.  Summer sometimes happens but even if it does, there will still be cool rainy days to break up the sunshine.  And what's the best thing to do on a cool rainy day? Make soup!
This sweet potato soup is smooth, thick and naturally creamy (my pet hate is shop bought soups that are filled with thickeners and cream when there's no need).  In fact once you start making your own soup you'll find it hard to enjoy anything other than homemade.
I love the subtle garlic and spices in this soup set against the smooth sweet potato and the crunchy pistachios. It's easy to make and makes a brilliantly healthy lunch – whats not to love.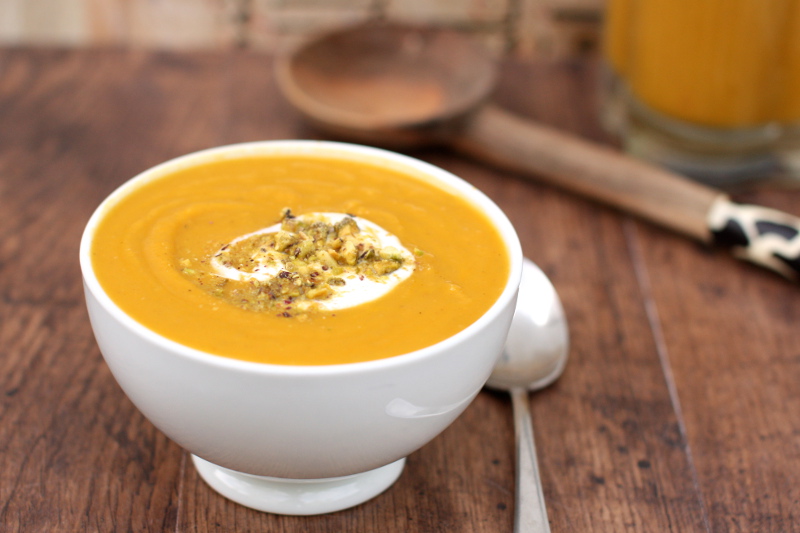 Sweet Potato Soup with Pistachio & a hint of Chilli (vegan)
Ingredients
3 medium sweet potatoes
2 carrots
2 sticks celery
1 large onion
3 cloves garlic
Drizzle olive oil
½ teaspoon of dried, ground chilli
1 teaspoon dried, ground coriander & ginger
1 litre | 35 fl oz vegetable stock
50g | 1/3 cup pistachios
4 tablespoons of coconut yoghurt & sprig of fresh coriander to garnish (optional)
Method
Makes 4 generous servings
Preheat the oven to 190C | Gas mark 5
Peel, then chop the sweet potatoes into cubes, and place in a roasting tin along with the carrots and celery both roughly chopped into pieces.
Cut the onion in quarters and roughly break up the onion layers then add to the roasting tin with the peeled garlic cloves.
Drizzle the chopped vegetables with olive oil and sprinkle over the coriander, ginger and chilli.  Season to taste with salt.
Toss the vegetables so that they are coated with the oil and spices then roast for ½ hour, turning occasionally.
Once cooked, transfer to a food processor in batches, squeezing out the soft cooked garlic from its shell.  Add some vegetable stock to each batch and blend until smooth.
Roughly chop the pistachios in a food processor.
Serve the soup warm with the pistachios sprinkled on top, and optional topping of coconut yoghurt and coriander.