Once you've eaten this seed-packed loaf as toast for breakfast you'll find it difficult to go back to the tasteless, refined cardboard that the shops call sliced bread.  It's partly the taste, and partly the pleasure you get from filling your body with gorgeously nutrient-rich ingredients first thing in the morning.  You just feel better for it!
This recipe is a result of trying and adapting many of the healthy bread recipes out there – like oh she glows, elena's pantry, or my new roots. Many people insist you need to add psyllium to make the loaf hold together but I don't like the bitter taste it adds, so this recipe is purely nuts and seeds with classic goji berries and additional walnuts. Its so delicious toasted, and it holds together just fine. One tip is to invest in a good 1lb bread tin. It's the difference between a successful loaf, and one that stays stuck in the tin.
If you keep to the basic ingredients, you can then swap the same amount of goji berries and walnuts for whatever you like. I often make this loaf with cranberries and hazelnuts – delicious toasted for breakfast, or heavenly served with hummus, roasted vegetables & watercress salad as a light lunch.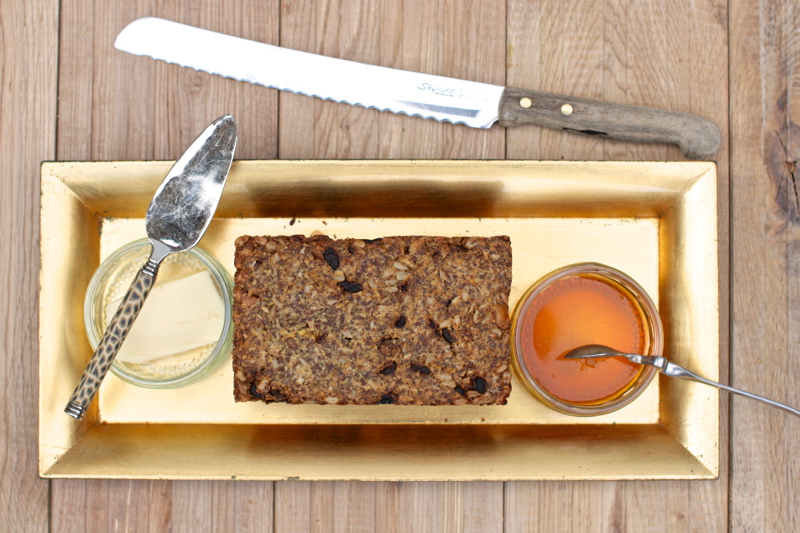 Seed-packed Loaf with Walnuts and Goji Berries (gf, vegan)
Ingredients
80g | ¾ cup flax seed
70g | ¾ cup oats
100g | ¾ cup sunflower seeds
40g | ½ cup ground almonds
30g | ¼ cup goji berries
50g | ½ cup walnuts (chopped very roughly)
1/3 teaspoon salt
1 tablespoon olive oil (plus little extra for greasing the tin)
1 tablespoon maple syrup
120ml | ½ cup water + 1-2 tablespoons
Method
Makes a small dense loaf (use a 1lb loaf tin)
Preheat the oven to 170C | Gas Mark 3.
Lightly grease a 1lb loaf tin with olive oil.
Mix together all the dry ingredients in a large bowl.
Add the half cup of water and olive oil to the dry ingredients and mix well.
Keep mixing, slowly adding a tablespoon of water at a time until the mixture sticks together when pressed down with a spoon.  It will still be a bit crumbly, so just be careful not to add too much water, as you'll end up with a very moist loaf when cooked.
Put the dough into the loaf tin and push it down to be sure the bottom of the tin is filled.
Cover and leave to settle for an hour or so to let the water be fully absorbed. This helps create a dense, firm texture.
Bake in the oven for 60 minutes.
Turn out of the tin (you may need to loosen the edges with a knife), and place on a wire rack to cool.